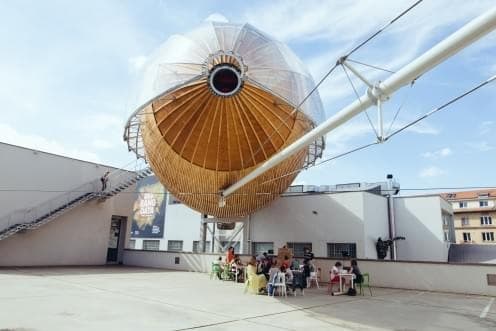 How did an airship come to "land" on top of the strict and clean features of the DOX Centre for Contemporary Art? Why is it called Gulliver? What is it made of and what makes it so "different"?
This programme will help you understand what is good about otherness and variety and how it relates to sustainability. On an exploratory mission you will look at Gulliver and planet Earth from various angles and will engage various senses; for a while your world will shrink, other times you will. You will find out why in 2014 the airship's co-​author Martin Rajniš received the Global Award for Sustainable Architecture, and will then try out sustainable materials for yourself.
Together, we will search for the basic pre-​requisite for pluralism, that there are various and sundry paths to a correct solution. During the closing recycling workshop, you will test this concept and create your own vessels for a voyage through our little universe.
Duration: 90 - 120min
Target group: Kindergarten, elementary and secondary school, special-​interest groups
Price: 400 CZK/​group (600 CZK/​group in English) + exhibition admission
Exhibition admission: 40 CZK/​student (accompanying teacher free of charge)
This educational programme must be ordered at least two weeks ahead of time.

Reservations and other information: skoly@dox.cz, 295 568 104
Supported by the Prague 7 Art District project.