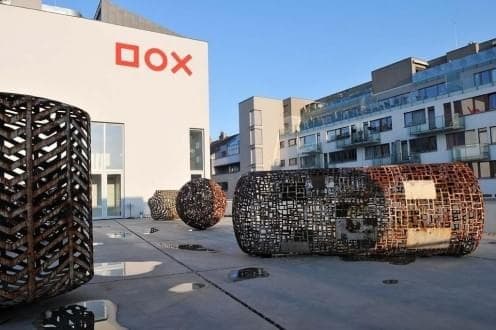 Educational programme for the exhibition ČESTMÍR SUŠKA: Outside / Inside 
We offer two alternative versions of the programme – for basic schools and for secondary schools.

For students of secondary schools the programme begins with an initial presentation and discussion, followed by an interactive tour of the exhibition and art workshop, concluded with a presentation of the created works. Within the framework of the presentation, students shall briefly recall the development of sculpture, from figuration to abstraction, as well as the development of the sculptural work of Čestmír Suška, and in the discussion shall attempt to place this information within the context of contemporary art. Emphasis shall be placed on the material and fundamental principles of sculpture, as well as on the basis of art as a topical message. Within the guided tour of the exhibition and discussion we place the knowledge obtained deeper within the context of DOX, contemporary gallery practice and the public space. We shall also touch upon the theme of ecology in relation to the historical value of things or ideas, as well as questions of interpretation of the work. The workshop shall connect to the aforementioned themes, and in groups we shall attempt to create a model sculpture for a specific public space and present an argument in favour of the material and function of such a work. The purpose of the programme is above all an understanding of the work of art in its widest social contexts, updated through the experience and creative activity of the participants.
A further variant of the programme (for younger pupils) is direct contact with the exhibition without an initial presentation, and a more interactively conceived placing into the context during the tour. We shall also make use of physical activities and sensory games in the exhibition, with an awareness of a firmer grasp of all components of the personality. The programme also naturally works with visual perception and verbalisation of concepts. It also utilises the principles of dramatisation in order to bring to life the principles of Suška's creative work within the given space to the greatest possible extent. The workshop is also based on the principles of a game, the central motif is the creation of an endless sketch from repeating geometric models.
Length of programme: 90 - 120 min
Target group: pupils of 1st and 2nd levels of primary school, secondary school, families with children, interest groups
 Price of programme: CZK 400 / group + admission to exhibition
 Admission to exhibition:
- in group of up to 15 persons: CZK 60 / student
- in group of over 15 persons: CZK 40 / student
- accompanied by teacher: free (max. 2 persons)
Reservations: skoly@dox.cz
Contact:
Tel.: +420 774 716 814
E-mail: tereza@dox.cz