Our educational programmes are for everyone who doesn't want to look at today's world just from one perspective. Come develop your critical thinking and come up with new ways to look at your surroundings. The two-hour programme is usually linked to current exhibitions or accompanies longer-term projects.
Teachers play a key role in the transfer of inspiring ideas and topics from the DOX Centre into a school's everyday curriculum. Several times a year, we therefore hold teaching workshops and offer premises for various educational conferences.
The DOX Centre is one of the founders of the Success for Every Pupil initiative, an informal network of organizations that together are learning to develop a teaching culture focused on the success of every pupil in (not only) every school.
Map of social stereotypes

We've designed an interactive guide that helps teachers and pupils orient themselves in non-material values.
Our team of instructors
The DOX Centre's instructors have a scope of knowledge that will allow you to get even more out of our exhibitions. We learn to learn from each other.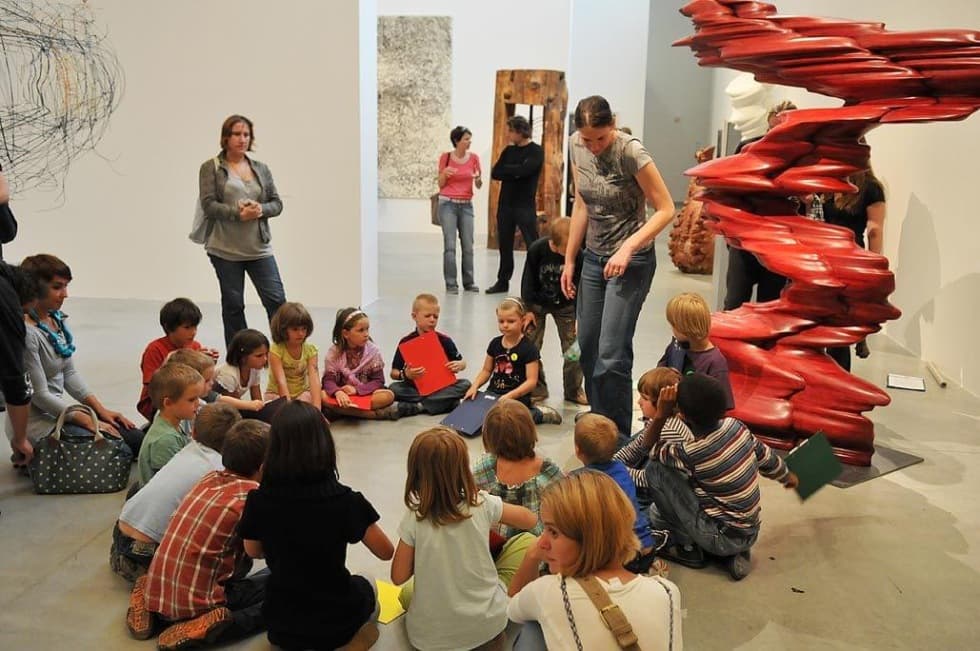 Jiří Raiterman
educational and family programmes (DOX), teacher at Jihlava Graphic Art Secondary School, member of the Máš umělecké střevo? [Are You an Artist?] platform, member of the ARTAMA - NIPOS advisory council
Lucie Laitlová
instructor (DOX), coordinator of the Jdi do sebe! [Dig Deep!] educational project, co-founder of the Kino otevřeno [Cinema Open] initiative
Michal Kučerák
instructor (DOX), art production and mediation
Mariana Dočekalová
instructor (DOX), art course head for the Bohnice Lives association, former journalist at HraNa magazine, editor-in-chief of Kompot magazine, editor of the Dora and Rosa and Their Big Adventures activity book
Klára Domlátilová
instructor (DOX, National Gallery) and art therapist
Tereza Havlovicová
instructor (DOX, Faculty of Education, Jan Evangelista Purkyně University), curator, administrator of works by artist Pavel Brázda
Jaroslava Hotovcová
instructor (DOX)
Monika Huynhová
instructor (DOX), educator in the area of Art and Culture, publicist and journalist at the H_aluze literary and cultural magazine
Dominika Knoblochová
instructor (DOX), community worker and head of recreational education activities (People in Need)
Veronika Čechová
instructor (DOX), PR, and assistant curator (Jindřich Chalupecký Society)
Darina Alster
visual artist, teacher (Academy of Fine Arts NM2), DOX instructor, publicist (Tvar, A2larm, Denník Referendum)
Tereza Záchová
instructor (DOX, MeetFactory), educator, curator of the 35 m2 gallery in Prague, founder of the Buňka gallery in Ústí nad Labem
Martin Závodský
instructor (DOX), student of Faculty of Education at the Charles University
Eliška Pýchová
instructor (DOX, National Gallery, and Kampa Museum)
Kateřina Borovičková
instructor (DOX, Leica Gallery), high school Art and History teacher, collaboration with One World in Schools (lecture creation)
Kateřina Sušková
instructor (DOX), illustrator, drawing teacher (primary art school), elementary school Art and Art History teacher
Simona Svatošová
instructor (DOX), high school Art and Art History teacher
Karolína Voleská
instructor (DOX), performer, dancer, student at the Faculty of Art and Design, Jan Evangelista Purkyně University
Viktória Černegová
instructor (DOX, MeetFactory), illustrator, drawing teacher (primary art school)
Kristina Němcová
instructor (DOX)
Václav Pata
instructor (DOX), člen kolektivu (KAV Ládví)
Continuity between DOX educational programmes and Framework Educational Programmes