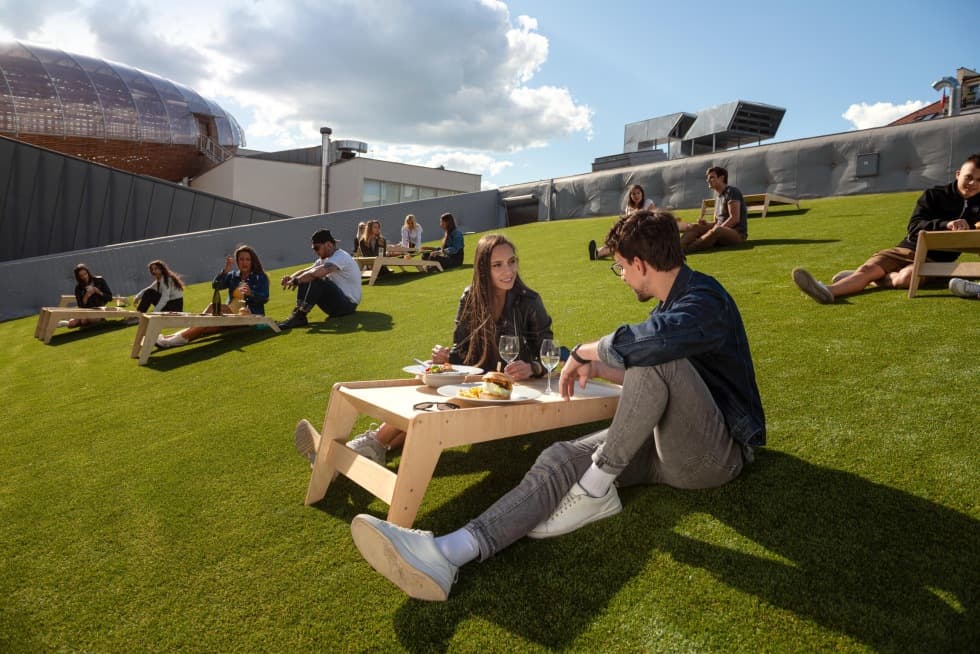 On the Evergreen whenever during opening hours of the DOX+ Bistro
A sanctuary in a quiet enclosed Holešovice courtyard, a unique slanted terrace with an evergreen lawn, a view of the Airship. Plus hearty breakfasts and lunches made with fresh ingredients. Come eat your fill or just watch the clouds in the sky.
Would you like to feed your body prior to visiting the DOX Centre, so you can then concentrate of food for the soul? And do you want to eat in the fresh air, a quiet environment and with a unique view? That's what you'll get on our Evergreen Terrace on the slanted roof of the DOX+ multifunction hall.

You'll find it on the second floor next door at Poupětova 3. In the morning you can have breakfast, for lunch you can choose from three main courses, and you can picnic until evening on salads, desserts, homemade lemonades, or a glass of wine.
You can have the DOX+ Bistro all to yourself. Information about rental.