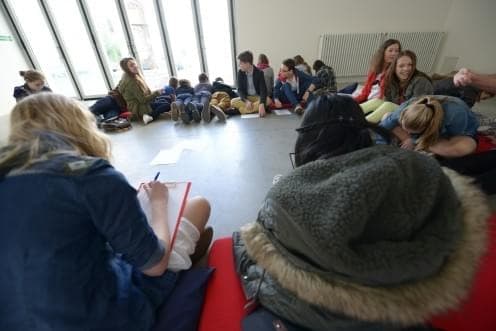 An educational programme for schools for the Modes of Democracy exhibition.
What is democracy? Does it take care of us, or is it we that have to care of it? This educational programme will allow you to create a mental map of democracy and fill it in via discussions and confrontations with art projects from around the world. In our opinion, democracy isn't a static system, but on the contrary is a dynamic structure that every individual should help develop.
The Modes of Democracy exhibition is based on the idea that the further development of democracy, even its very survival in the global world depends on a mutual respect for shared values as well as differing cultural traditions in regions, nation states, and the international community. Selected works and projects present inspirational stories of democracy at individual levels – city borough, city, autonomous region, country, and finally also on a global scale.
Programme length: 90 - 120min

Target group: secondary school students, special-​interest groups

Cost: 400 CZK/​group in czech language (500CZK/​group in english) + exhibition admission
Exhibition admission: 40 CZK/​student (accompanying teachers: free)
This educational programme must be ordered at least two weeks in advance.
Reservations and other information: skoly@dox.cz, 295 568 104