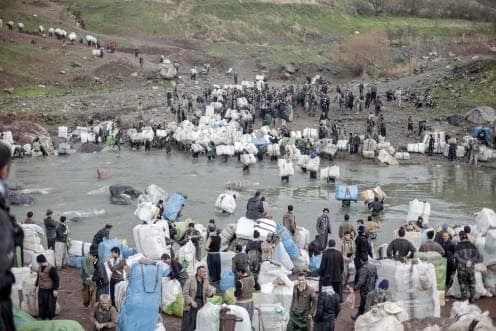 An educational programme from the The Role of Art /​ Roles in Art course catalogue for the OVER MY EYES: Stories of Iraq exhibition
the "curator" role
The DJ Curator educational programme aims to familiarize students with the role of a curator in a contemporary art facility operations. We will use the OVER MY EYES: Stories of Iraq exhibition to show how important a role "selection" plays in our society. This is because selecting means choosing, deciding, specifying definitively. It is the curator who has the last word – the curator presents art to the public, looks for artists, or thinks about art and transfers his or her understanding to others.
Art is not a toy created by people to avoid boredom. Art is a specific language that takes a lifetime to learn – the same way we speak our mother tongue, we can also speak the language of art. A curator is a guide who helps us find the way. His or her selection limits us but also moves us forward. The goal of the DJ Curator programme is to point out the importance of selection and choice against the background of an exhibition that brings us a different, local view of the situation in one country. A view that can seem foreign and distant to us, but in reality... we have to pick and create our own picture of what this world is really like. The initial presentation will thus be supplemented with an interactive tour, during which students will have the opportunity to think up their own version of the exhibition.
We recommend including this programme in the following subjects: Art, Social Studies, Czech, History, Media Studies
Programme duration: 90 - 120min
Target group: elementary school, high school, special-​interest groups
Programme price: 400 CZK/​group (500 CZK/​group in English) + exhibition admission
Exhibition admission: 40 CZK/​student (free for accompanying teacher)
This educational programme must be ordered at least two weeks in advance.
Reservations and information: skoly@dox.cz, 295 568 104
Supported by: