Flesh. The fascinating hallucinatory universe of Franck Vigroux in its Czech premiere at Prague's DOX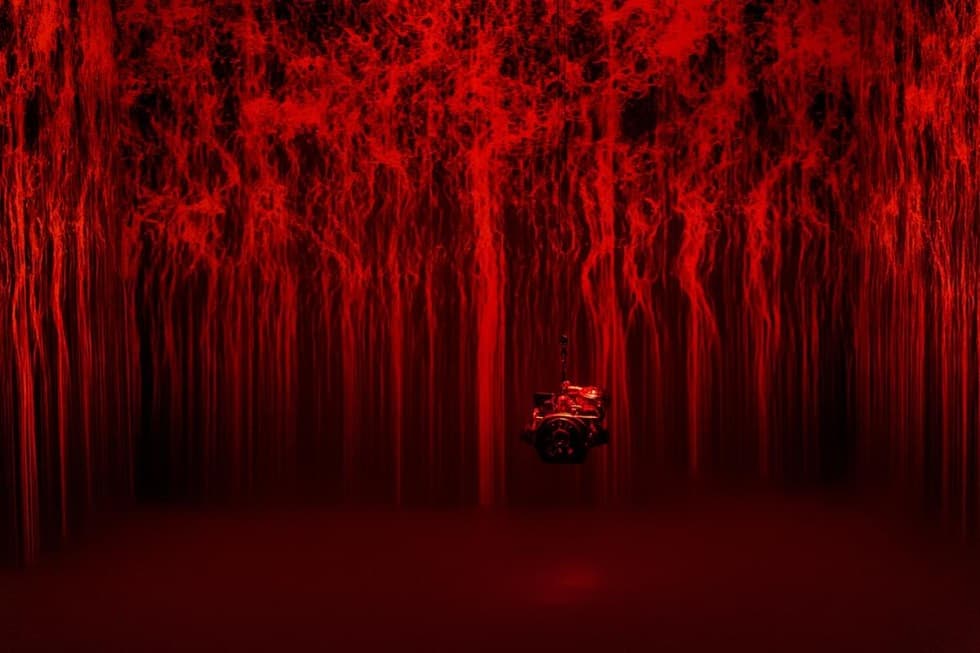 The audio-visual event of this autumn. A remarkable experience. Interdisciplinary work. All this and more describes the live installation or musical theater on the border between fine arts, a concert and drama entitled Flesh, which will take place on the 8th and 9th of September, 2021 at the DOX Centre for Contemporary Art.
A hallucinatory journey into the atmosphere of the apocalypse lies in store for the audience. A fusion of music, video, dance and light. A car crash. Then, the driver's head opens up into an empty, unchanging, peaceful space where the song of an inhuman voice is heard. Within this expansive space, the scene of the collision, lost in a vast motorway junction, slowly becomes visible. Wrecks of vehicles transform into moving objects, highway viaducts become gigantic golems and automobile motors seemingly float above a sea of snow or clouds.
Franck Vigroux, author of the Flesh production, is not unknown to the Czech audience. He performed here in December, 2016 with German pianist Reinhold Friedl and their project Tobel. Now, the forty-eight-year-old Frenchman is presenting himself not only as a radical composer of electronic music, but also as a director and visual artist.
For the production of Flesh, Vigroux was inspired by his own experience in an automobile accident – the instant following the shock, the fleeting moment when time seems to have stopped or expanded, the moment when the mind separates from the body and reveals a panoramic view of a surrealistic scene. Another source of inspiration for Vigroux was the controversial novel Crash by English writer J. G. Ballard, a work of science-fiction about fascination with speed and car accidents in which the main characters achieve sexual climax.
The backbone of Flesh is music. Through its narrative power and metaphysical dimensions, music forms its foundations. It consists of a broad scale of live tones from electronic beats to vocals and the old-fashioned sound of the harpsichord. The antipode is a spoken song by Ben Miller about the journey of three characters through a phantasmagoric space. And in addition to the rough, electronic and mechanical sounds wrapped around minimalist rhythms, Vigroux also uses silence as sound material.
Flesh is a comprehensive work of art combining digital art, the primitive and the contemporary. It promises an intense aesthetic adventure of new impressions enabled by new technology.
"DOX's program focuses on the work of established artists from all over the world who transcend the boundaries of individual artistic disciplines, excel in their unmistakable artistic handwriting and deliver a powerful experience to viewers. Such is also the work of electronic composer, director and visual artist Franck Vigroux, who DOX is presenting in Prague in collaboration with The French Institute and the Strings of Autumn festival," explains Viliam Dočolomanský, program director for live art at the DOX Centre for Contemporary Art.
"In the 25 years of its existence, Strings of Autumn has presented countless Czech premieres and daring dramaturgy has always been one of the pillars of the entire festival. Another thing that has become more and more significant in recent years is the intertwining of genres. The program casts light on the relationships between traditional and contemporary classical music, jazz, hip hop and electronic music. The audio-visual project Flesh by Franck Vigroux thus fits perfectly into the philosophy of the festival and we are pleased that, with his Czech premiere, we can again deepen our cooperation with DOX, whose philosophy is very similar to ours," adds Marek Vrabec, director of the Strings of Autumn festival.
"The invitation of Franck Vigroux is a great satisfaction for the French Institute in Prague as he is without a doubt one of the most talented French artists today in the area of contemporary protean creation on the border between music, sound, choreographic and visual research. We want to share this exceptional experience with the Prague audience and with Czech professionals working in the field of avant-garde and experimental creation in order to also support our dialogue and artistic exchange. It was a clear choice to come to DOX with this awesome project as it is an indispensible place for contemporary art," says Sarah Doignon, First Secretary of the French Embassy in the Czech Republic.
Franck Vigroux (* 1973) is one of today's most talented French artists. He embodies the idea of the paramount modern creator with a plurality of interests – he is simultaneously a musician, composer, artist, producer, experimental DJ, performer and director. This pungent mix allows him to develop and define himself across many themes and media at once. Then there is also Franck's relentless energy, methodology and his openness to and across all cultural channels and forms of transmission. He performs in modern halls, spaces for contemporary art, reclaimed ruins and abandoned industrial buildings.
Flesh
Czech premiere of the audiovisual project
8th and 9th September, 2021, always at 7 P.M.
DOX+ Multifunctional Hall
Poupětova 3, Prague 7
Co-producers
The French Institute in Prague
Strings of Autumn