ALL HAIL SPORT!
24 Jun – 10 Oct 2016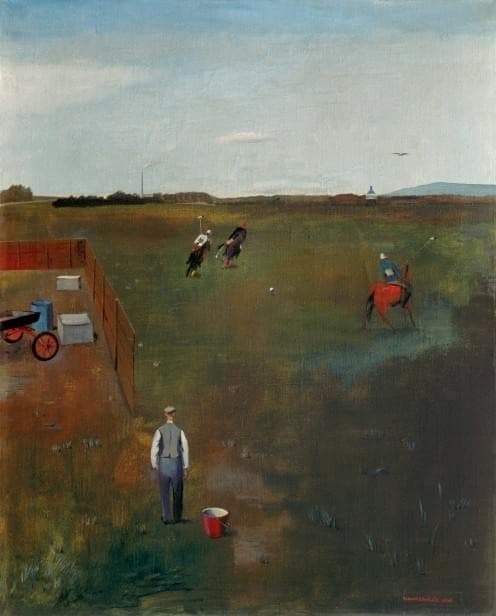 When the first Olympic Games took place in Athens 120 years ago, their founder, Baron Pierre de Coubertin, inspired by the tradition of the ancient Olympic Games, wanted to include not only athletic disciplines, but to combine sport and art. The seven Olympics between the years 1912 and 1948 even had art contests in which artists "competed" in the categories of architecture, literature, music, painting, and sculpture.
While sport has been an inspiration since ancient times, only in the twentieth and twenty-first centuries did it become a phenomenon to which an entire number of important artists have devoted their work, starting with Kamil Lhoták, Bohumír Matal, continuing with Jiří Kolář, and including present-day artists such as Michael Rittstein, Jaroslav Róna, František Skála, or Krištof Kintera.
Covering an area of 1230 m2, the ALL HAIL SPORT! exhibition presents sports-related paintings, sculptures, installations, collages, and drawings by sixty Czech artists from 1945 until the present day, featuring both well-known and lesser-known names.
The exhibition has been coinciding with the XXXI Summer Olympic Games in Rio de Janeiro with the support of the Czech Olympic Committee.
The project is loosely inspired by the book Sport je umění [Sport Is Art] by Petr Volf.
Curators: Petr Volf, Leoš Válka
List of exhibiting artists:
Vojtěch Adamec, Alena Anderlová, Vlastimil Beneš, Pavel Brázda, Michal Cihlář, Tomáš Císařovský, Alena Čermáková, David Černý, Jindřich Červenák & Radek Macke, Jiří David, Stanislav Diviš, Tomáš Džadoň & Diego Valentino, Rudolf Fila, Zdeněk Filip, Roman Franta, Radim Hanke, Leo Haas, Petr Holub, Václav Chochola, Karel Jerie, Ellen Jilemnická, Kamera Skura & Kunst-fu, Krištof Kintera, Lenka Klodová, Ondřej Kohout, Jiří Kolář, Radomír Kolář, Ivan Komárek, Ondřej Kopal, Petr Kožíšek, Alena Kučerová, Kamil Lhoták, Zdeněk Lhoták, Václav Machač, Bohumír Matal, František Matoušek, Tomáš Měšťánek, Milan Mikuláštík, Jiří Načeradský, Zdeněk Němeček, Marcel Niederle, Milena Průžková Olivová, Rostislav Osička, Michal Pěchouček, Linda Pelclová, Iveta Pilařová, Theodor Pištěk, Martin Reiner, Michael Rittstein, Jaroslav Róna, František Skála, František Antonín Skála, Jiří Sozanský, Jiří Surůvka, Barbora Šlapetová, Filip Turek, David Vávra, Martin Velíšek, Jiří Votruba.

27 Aug | 2:00 p.m.

All Hail Running – a cultural orientation run through Prague 7.
Reservation required: rezervace@dox.cz. 
7 Sep | 6:00 p.m.

An athlete and totalitarianism – the story of Emil Zátopek – a debate between František Kolář, Pavel Kosatík, and Petr Volf.
Reservation required: rezervace@dox.cz. 
1 Oct | 3:30 p.m.

The Architecture of Sports Facilities – a lecture by Markéta Svobodová within the scope of Architecture Day.