An Artist's Book as a Book
3 Dec 2015 – 3 Jan 2016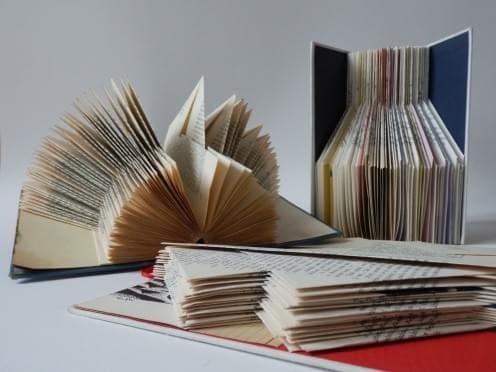 The exhibition takes place at the Art Archive at DOX.
Exhibition opening: 3 Dec, 6 pm

The exhibits on display in December as part of the Polička/Shelf project at the Art Archive cannot be directly described as artist's books. At first glance, however, they could be identified as such – similar objects are created and are more or less rightly considered art. For this to be the case, however, the books on exhibit lack a basic requirement – the desire of the individual to create an artist's book at all. This is because the three exhibited books were created at the Jeroným Social Therapy Workshop at the Louny Town Library during the course of therapy work with mental handicaps or illness. The properties of a book that come to the fore in this way of working with books, this being subdivision into externally identical units – pages, the ability to manipulate them in regular rhythm, their sequence and relationships, these aspects, suitable and certainly not randomly chosen for therapy of the spirit, were the reason these books were chosen for the final exhibition in the first Polička/Shelf series, because they enable us to ponder the nature, perhaps even the essence of a book that is different, changed from its original function, a so-called artist's book.
The exhibition as a whole will consider the nature of the "artist's book", and will explore the question "What, then, is an artist's book?" Is it a book that its author created on his own, from A to Z – wrote with his mind and hand, drew, bound, and if possible also made the paper? Is it a book that exists as only one copy? Is a Medieval manuscript thus an artist's book? And if not, is an artist's book thus wedded to the period in which it was created? So how, then, should we identify it? And is a book not by chance an artist's book, though put out by a publisher and mechanically produced, if the author of its entire message, in text as well as in images, is one person?
In general: a book is a space. If it is created by someone who tends to be an artist, in the comprehensive, varied space that is a book, it is termed an artist's book.
A book is a space that makes it equally possible to perceive ideas both verbal and visual, dynamic and static; it is a space for motion, for motionlessness, and for creation.
The goal of exhibitions within the Polička/Shelf project always tended to be an exploration of the limits of the book and the artist's book genre.
The opening will include a lecture from the series At 6 in the Archive, in which the curator of the exhibitions, Lucie Rohanová, will describe this format.