Architecture of the VII Day
17 Mar – 22 May 2017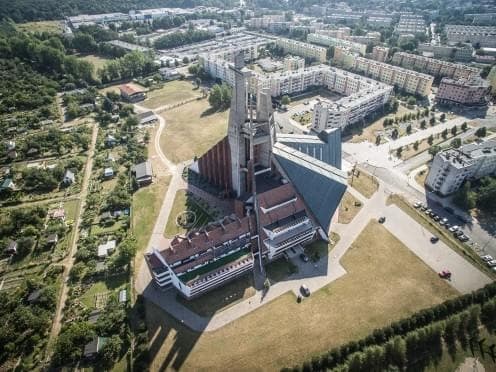 In the 1980s, Poland unintentionally became the largest laboratory in the world of "bottom-up architecture".
Since the end of World War II, a total of 3,780 churches had been built in Poland, more than in any other European country. Most of them were built during the 1980s, a time when building churches was neither permitted nor forbidden, thus playing a key role in Cold War politics.
The authors of the Architecture of the VII Day project
- Iza Cichońska, Karolina Popera and Kuba Snopek
– are attempting to document these Polish churches the circumstances under which they were built in a comprehensive manner.
Not only do these structures defy the prefabricated and uniform nature of Eastern Block architecture of the time, but they are also the result of community efforts
based on local financing and investments, long before these approaches became trends in twenty-first architecture.
In the public programme, we will focus on topics such as community architecture and parallels in the Czech Republic.
Curators: Iza Cichońska, Karolina Popera and Kuba Snopek
8 Apr 2017 | 5 pm

A guide tour of the exhibition with the curator Karolina Popera, in English language, free with a valid ticket, reservation required at rezervace@dox.cz