Berg Orchestra: OLD/NEW
5 Nov 2018, 7:00 PM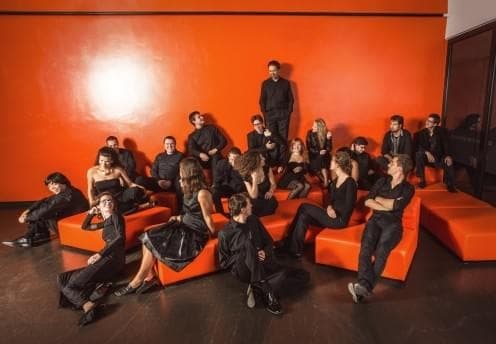 Orchestr BERG, which specializes in contemporary music, is one of the Czech Republic's most interesting ensembles. It orders new compositions from Czech composers, primarily young ones, and offers the Czech public a fresh look at new music from around the world. It often combines music with theatre, dance, art, or film.
PROGRAMME
Jiří Lukeš – new composition (world premiere)
Ondřej Adámek - Ça tourne ça bloque
Heiner Goebbels - Sampler suite
Old forms filled with new music – a Baroque suite through the eyes of Heiner Goebbels, featuring a sampler, an original and often surprising instrument. The same instrument is also used by world-renowned Czech composer Ondřej Adámek, who used a sampler to incorporate fragments of secretly recorded Japanese and French conversation into his composition. The programme also features the world premiere of a new collaborative interactive work from composer Jiří Lukeš and light designer Vladimír Burian.
FEATURING

Jiří Lukeš – live electronics
Vladimír Burian – interactive projection and light design
Orchestr BERG & conductor Peter Vrábel
This event is being held by Orchestr BERG in cooperation with the DOX Centre for Contemporary Art.
Support: Ministry of Culture of the Czech Republic, The Avast Foundation, OSA Partnership
The City of Prague contributed CZK 400,000 to the activities of Ochestr BERG in 2018.
Media support: Czech Radio, HISvoice, Harmonie