Blue Light Tonite
29 Apr – 6 Jun 2011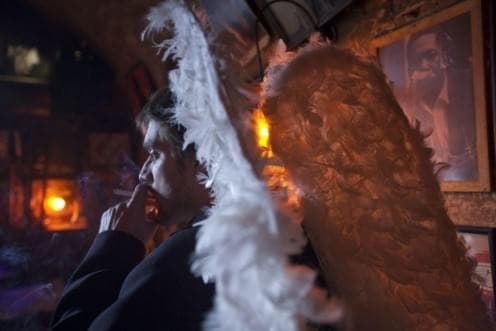 The title of this exhibition of photographs and the recently published book is taken from the text message "Bl tonite?", which used to be popular with regulars at the Blue Light bar in Prague. The project has resulted in a series of photographs of these people, some of them well known, others less so. The exhibition at DOX presents a selection of 24 photographs from the total number of 57 published in the book. The pictures document the magical atmosphere of this bar in the Lesser Quarter, where visitors have scratched their names into the brown walls and ceilings for the last two decades.
The original idea was to take studio portraits of several dozen friends and acquaintances we meet in the bar, but that was soon abandoned in favour of photographing everything at the Blue Light with no extra lighting and mostly in the afternoon, before the bar opened. A list of people to be portrayed was quickly drawn up, but over time it was altered. For a variety of reasons we didn't photograph many of those we'd initially included on the "Blue List", and we added other people we hadn't originally counted on. There were also many people who would have been part of the selection, but we weren't able to photograph them – such as the Romanian flower woman who's been selling flowers in the bar for the last fifteen years, the Prague restaurant owner Nils Jebens, the actor Jiří Langmajer, Glen Emery – the Prague-based Canadian author of "Thirsty Dogs" – and Janka Kellerová, who we arranged to meet at least three times but it never worked out. And eventually we had to stop taking pictures. When making our selection it was important that Alžběta and I agreed on the person portrayed. So you can find Pepa the dustman, who's been carrying trash out of the bar for the last fifteen years, alongside the Czech Foreign Minister, Karel Schwarzenberg.

Photographing took place from spring to the end of summer 2010, and for the most part meant very entertaining meetings with friends. Initially the photographs were documentary, but one time Jiří Macháček erected
a structure made out of barstools on the bar, and then lay down on it and started licking the light bulb hanging over the bar. For us that was a sign that we should start making the portraits more stylised, sometimes dressing the subjects up in costumes and using make up. The result is a diverse mixture of portraits of people who have intersected in the time and space of this bar in Prague. Stories lie behind some of the photographs, while others are based on the atmosphere or magic of the moment. Today we'd probably do some of the portraits differently, but the project had to come to an end some time, and the cycle's imperfection is part of its charm.
Several of our friends collaborated on this project, from the owner of the Blue Light, Franta Ludačka, who trusted us enough to let us have the keys to the bar, to Ivan Zachariáš, who was our artistic mentor and thought up a number of stylised portraits, and Aleš Najbrt, who gave the project its graphic look."

 Vít Máslo
Photo: Alžběta Jungrová
Authors of the project: Alžběta Jungrová, Vít Máslo