COCKEREL SS13 in the Box
29 Nov 2012 – 28 Jan 2013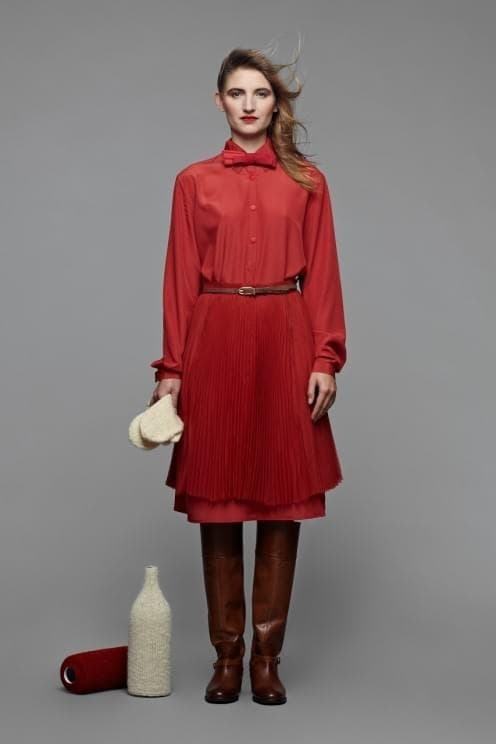 COCKEREL is not what it seems.
Five outfits expanding into the world of objects, adopting the morphology of plastic crates in puff printing, or transposing their structure into the details of the pleating of a skirt, a blouse, the sleeves of overalls… This is the pilot collection from COCKEREL by
Lenka Kohoutová.
And in return a vase, a designer object that has lent clothing the technological essence of weaving, and yarn winds round its curves line by line. The object enters into a direct dialogue with the woman and becomes part of her outfit. It displays attributes previously seen as something that people do – it gets dressed (or is dressed).
It's about establishing equilibrium rather than grabbing attention, which is strictly divided between clothing, object and space. Individual items of clothing are redefined in their fundamental forms – blouse, skirt, trousers and their derivatives. It's about looking for the essence of clothing as a covering for the body, in confrontation with other objects in a particular time and space.
The red yellow black white blue girl picks up a vase and walks down the street…
The strong "rooster" colours point to the planned development of the brand, but they also evoke the spirit of the 1960s, and besides the power of their primary colours they also possess impact, dynamism, drive and confidence.
In Lenka Kohoutová's designs there is something constant, something that prevails – the world, circumstances, moments – working in a system that functions in its place and time. In COCKEREL nothing exists in isolation and everything interacts. The basic structures and colours of plastic crates have been imprinted into the anatomy of the clothing, and the body comprises the substance of the form and gives shape to the prints.
In the designer's personal story the moment has come for her to present her unique concept and collection and launch her own brand. This move is above all about the need to create. She offers a collection that simply IS, take it or leave it, and for the customer this display of freedom is uniquely refreshing and daring.
What we wear makes us who we are, or who we want to be. If the designer's ambition is to treat clothing as individual items, this is less about elevating each item than letting COCKEREL come into our lives piece by piece.
Curator / Radana Ivančic
Photographer / Michal Ureš
Installation /  Jakub Berdych
Graphic design / Štěpán Malovec
DOX by Qubus
Poupětova 1, Praha 7
For more information: +420 775 708 090, qubus@qubus.cz 
Qubus
Rámová 3, Praha 1
T: +420 775 708 090
qubus@qubus.cz
www.qubus.cz