CULTURE AND CONFLICT: IZOLYATSIA IN EXILE
11 Jun – 20 Jul 2015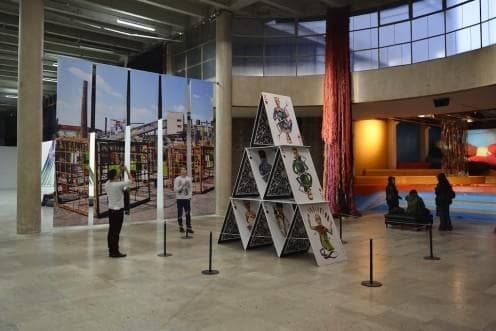 On 9 June 2014, the IZOLYATSIA foundation was seized by representatives of the self-proclaimed "Donetsk People's Republic" (DPR). The foundation evacuated its team to Kiev, where it continues to perform its mission. The offices, galleries, art spaces of IZOLYATSIA Donetsk were looted and wrecked over the course of the following months. The cultural foundation's grounds have since been used as an armoury, military training camp, prison, and torture center. According to civilians who have been held there and later released, at least five people have been executed without trial at the site.
The purpose of this exhibition Culture and Conflict: Izolyatsia in Exile is to communicate this foundation's story amidst the conflict in Eastern Ukraine. In many ways, the exiled IZOLYATSIA foundation represents the unheard voices of Donetsk, including the thousands of young professionals who participated in demonstrations for the unity of Ukraine, and who have now fled the city.
The exhibition features video interviews with civilians who were held by the DPR at the IZOLYATSIA site, with young people from Donetsk, and video interviews obtained by Russian reporters with the militant camp commander and other militiamen.
The exhibition will also feature a recent work by Donetsk artist Serhii Zakharov. During the conflict in Donetsk, Zakharov created a series of caricatures featuring the officials of the self-proclaimed Donetsk People's Republic. He would post these images around the city under curfew as a protest. After a month of his graffiti activity, Zakharov was caught by a DPR patrol and spent a month in a DPR prison, where he was beaten severely and tortured. Serhii Zakharov will be present at a panel discussion on the opening day of the exhibition at DOX.
10 June, Serhii Zakharov will present performance The House of Cards and then, along with other guests, will attend a panel discussion.

10 June | 6 pm   – Serhii Zakharov introduces performance The House of Cards 
The House of Cards features Zakharov's twelve original drawings of senior DPR officials, and other personas of the conflict, as caricatures on oversized playing cards. The construction is as floppy and unstable as the DPR itself. During the performance, is destroyed when the cornerstone card – with its image of Putin's face as the joker – is pulled out from the bottom of the structure.
10 June | 6.30 – 8pm – Panel discussion
What is the role of artists and cultural production in times of conflict? What are the historical precedents, and where is the line between cultural production and propaganda in the arena of war?
Guests:
Anya Medvedeva  –  IZOLYATSIA Foundation
Serhii Zakharov  –  Artist, Donetsk, Ukraine
Jemima Montagu – Culture + Conflict
Jefim Fištejn – Commentator, Radio Free Europe
Moderator: 

Adriana Dergam – Journalist
The discussion will be held in English and translated into Czech.