DOX & Holešovice: Places in Motion
6 Feb – 6 Apr 2009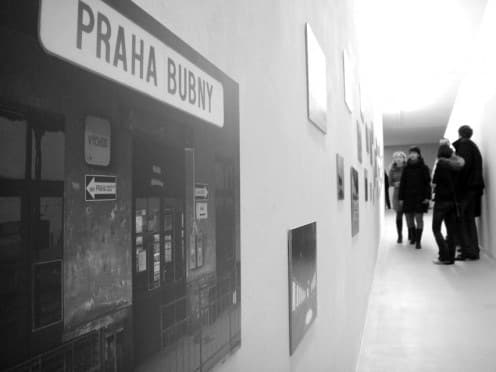 Industrial architecture has enjoyed a resurgence in public interest, due to an increase in attention from specialists, and use in highly-visible real estate development projects. Two Prague districts, Karlín and Holešovice, serve as an example of this grwoing trend. DOX Centre itself, built on the site of a 20th century industrial complex is a prime example of the tasteful use of industrial heritage.

The exhibition captures DOX as it was in construction within the context of the urban space of lower Holešovice, and its historical changes. Using both text and image, the exhibition highlights the interelated stories of the topography and history of one city district, indicative of questions connected to the urban revitalization and the re(use) of industrial architecture. The transformation of
a former metalworks factory into a centre of contemporary art is a metamorphasis of form and function, which is becoming a symbolic of all the changes this district is going through.

This exhibition is taking place on the ramp in the corridor of the second floor, leading to the DOX Cafe. Photographs of Holešovice are part of the fotodokument.cz project, taken by Jan Bezucha, Michaela Brachtlová, Ondřej Bouška, and David Stecker, photographs of the construction of DOX Centre were taken by the architect of DOX, Ivan Kroupa.This exhibition is curated by Jaroslav Anděl, Věra Marešová and Leoš Válka.

A lecture series focusing on industrial heritage and the changing nature of the Holešovice district is taking place in conjucntion with the exhibition.