DOX IS CELEBRATING 5 YEARS
28 Sep 2013, 2:00 PM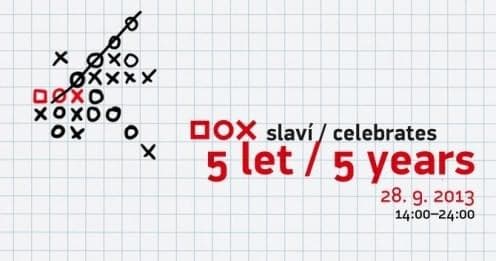 A fantastic all-day programme is shaping up for 28 September at DOX. That's because we're celebrating our 5th birthday! 
And what's in store for you? Packed WORKSHOPS WITH KNOWN ARTISTS, EXCELLENT BANDS and DJs, GUIDED EXHIBITION TOURS, and an EVENING CONCERT AND LIGHT SHOW. There will also be afternoon creative workshops for parents with children.

ALL THIS, ALL DAY, FOR FREE. You can't miss out on this.
Exhibitions will be open from 10:00 to 18:00 for free.
The programme begins at 14:00 and it will continue until midnight.
Programme:
14:00 – 17:00
Creative afternoon workshops with artists

Yoga With KOKO – Come for a yoga workout with KOKO (Jana KOKO Kochánková) in the gallery!
Photographs Instead of Language – What all can be expressed with photographs if words aren't enough. A photographic experiment with Lukáš Houdek.
Hammer vs. Mobile Phone – Recycling and remediation using a drill, under the supervision of Michal Cimala
Urban Workshop – An ideal public space: reality or oxymoron? This reSITE workshop will help you decide.
and other artists as a birthday surprise!
Creative workshops for children and families with instructors from the DOX Centre
Around the Building – A park, forest, playground, ocean, friends, skyscrapers… or what all would you like to see around DOX?
Have a Seat – Help us decorate DOX for its birthday party – interior design and the theme of recycling as inspiration!
Poster or Sticker? – Both the largest and the smallest birthday invitation has its rules, but also needs your creativity.
We've Got Nothing to Wear! – How about an elegant birthday cap, hat, mask or other creative wearable? Stop by the costume workshop, governed by children's fantasies.
16:00 – 24:00
United Islands Reloaded: Floex DJ set, Kapitán Demo,
Piano, Le Pneumatiq, DJ Mardoša (Tata Bojs). 
and many other birthday surprises!
We're looking forward to seeing you!
This event is being held in cooperation with UNITED ISLANDS České Spořitelny.
Partners of the event are.