Ellen Jilemnická: Ona (She)
5 May – 1 Jun 2014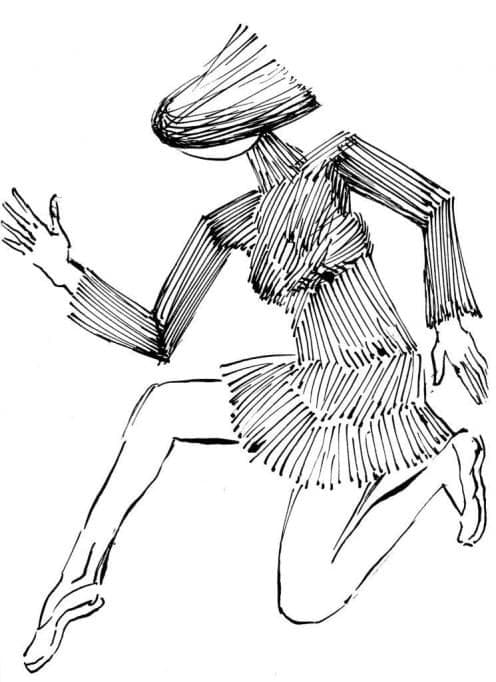 The exhibition takes place at the Art Archive at DOX.
Exhibition opening: 7 May at 5 pm

Ellen Jilemnická's book Ona, which we have the honour to not only present in Polička/Shelf, but as the Fine Art Archive, to also be its publisher, is not an author's book in the sense of a single original, but rather in the sense of authorship of images and words joined into a whole, in which one component moves the other forward.
In the drawings, we recognize at first glance her unique signature – a shape set off from space by a saffron-coloured area – one that is familiar not only from her sculptural studies and drawings accompanying her previous collections of poems, but also from the surface of her sandstone sculptures, where delicate lines undulating on the surface create volume, depth and perspective even in relief. In her drawings, hatching creates movement. The pen follows the shape in its dynamic nature: a forearm is hatched in the direction that it points, the intensity of lines indicates strength of gesture, and corresponds to the situation in which the figure finds itself.
The figure in motion is the book's main motion. A being, Ona (She), represents a generalized female and thus human experience of ontogenetic movement, a path through life; she has no face, is abstract, universal. She is captured in situations that every person experiences. Some are once again depicted in an abstract manner – searching, hesitating, helplessness, escape; in other cases a specific depiction, detail, moment represents a more general event. Several images of movement are thus a symbol of joyfully stepping forth to meet life head on, the same path is thematized several times, with the motif of the key symbolizing entry and decision. This element is already familiar from Jilemnická's sculptural work, like the entire principle of representative detail: the hand represents action, a monumental face the entire figure, an entire idea is captured using a particular that does not evoke only a part, but a new level of general applicability.
Each drawing is introduced with a few words, an unfinished verse, that evoke the situation, and whose sum can be read as a poem in which, just like in sketches for drawings, we meet with crucial events, with dynamic moments as well as images of repose, equally important in the context of life's journey.
Ellen Jilemnická is known for her cycles (Moments, Human Activities), which among other things are characterized by the fact that they safely find their proper form: this property is also shared by Ona, a cycle that has found its ideal expression not in sculpture, but in drawings – light and airy – that match the merely hinted at, delicately inspired text commentary.