Eva Maceková – Sketchbooks
4 – 31 Jan 2016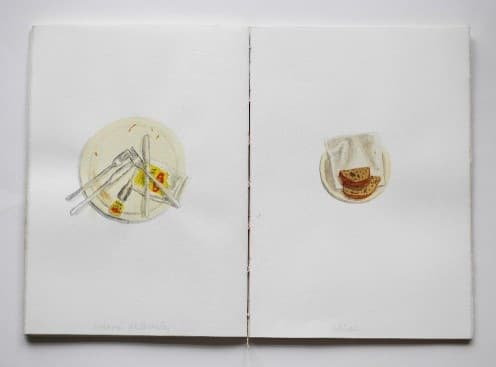 The exhibition takes place at the Art Archive of DOX.
Exhibition opening: 4 January, 5 pm
The shop is empty – only leftovers are to be had. Crumbs and spots of sauce, a few sprigs of parsley, a dry bit of cucumber, a morsel of cheese. Just enough to make you hungry. Neither nothing nor enough. Little.
One of Eva Maceková's sketchbooks in Polička/Shelf is the aftermath of a feast. The plates on the pages wait to be taken away. Was it good? Or was it inedible? Who ate supper or breakfast here?
Eva Maceková's work includes much. Her paintings, illustration, clothing, and objects are created at night. They emerge from the darkness. Bizarre, fantastic, anxious, or wearing a naïve mask, they end up badly in Eva's world, or even worse – not at all. Despite this, her brutality is sometimes almost tender. Because it is intimately familiar. The meanderings of comic-book figures is accompanied by futility and embarrassment, brief dramas and little deaths float in a rainbow, apocalypses are bizarre, and the heroes of her stories are naïve, with large, trusting eyes.
The Art Archive's Polička/Shelf project presents just a small part of her work. In sketchbooks, it offers clean, finished illustrations, while also presenting two books of collected works from when she was still studying illustration at the Academy of Arts, Architecture and Design in Prague.
The concept of a sketchbook is usually that of a record. A sketch can be unfettered, free, still looking for a definitive form, still forming and formulating an idea. The word sketch comes from the Italian word "schizzare" – to splash, to spatter. And according to the dictionary, is perhaps also based on the Latin word "schedium", which means an impromptu expression of an idea. Not infrequently, a sketchbook reveals its sources and inspiration, shows the progress of creation as one leafs through it. A book is also sequential, and its pages follow a timeline. A sketchbook is a visual diary of a finished work, its concept. And Eva's style changes here, as if it were a language she were seeking. A sketchbook allows us to examine the causes of this language, and helps us understand it.
Eva's sketchbooks are wild and disparate. But perhaps they reveal the origin of an idea and testify to her motives more than clean, completed illustrations. In printed publications, punk-rock Eva changes into a professional. But sketchbooks have no unified style, they are a mixture of many various ones, different, and multi-layered in their manner of perception and expression.
The manipulated sketchbook and the transformed diary are one of many forms an artist's book can take. Through her watercolours of empty plates, Eva Maceková captures naked reality. Like Ed Rusch, she just extracts and collects. The second sketchbook documents a collection of photographic nudes with daring drawings. Both are unfinished. They are among the few that do not contain stories, falls. They are lyrical. Which is also one side of Eva Maceková.
Curator: Anna Pleštilová