Exhibition 2012
17 Oct – 10 Nov 2012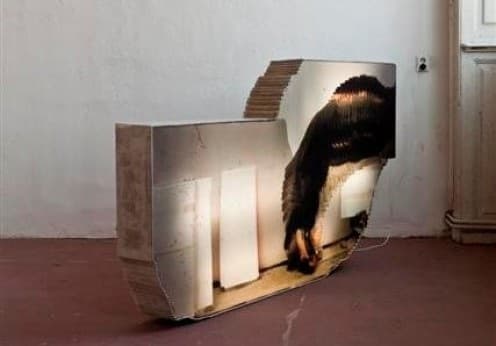 The DOX Centre for Contemporary Art will present a variegated show of talents, original designs and surprising connections from all fields of study offered by the Academy of Arts, Architecture and Design in Prague. Curators
Tereza Bruthansová
and
Maxim Velčovský
have selected thirty of the most interesting graduation projects from the area of architecture, design, illustration, painting and fashion design.
The show occupies almost twice the area it did it in its first year, when it was held at the Museum of Decorative Arts. It has thus succeeded in even better describing the specific nature of the school, which is composed of dozens of studios headed by distinctive personalities, thanks to whom the school has this year once again produced several significant talents.
Visitors to the DOX centre will encounter not only ideas and subject matter, but also material and processes that were key for young artists during the past school year. For example a book of stamps, which was created by students from the Typography Studio, was influenced by the deaths of important Czech personages.
You will see climbing ice axes from fresh product design graduate Karel Matějka and a plant by Jakub Jansa from the Supermedia Studio that is used for data storage, as well as a quite original appearance concept for the legendary Baťa tennis shoes from the 1960s from students of the Studio of Fashion and Footwear Design.
Other projects involve interesting or unusual processes. For example in his graduate project, graphic design graduate Matěj Činčera transferred iconic coffee tables from known designers into engaging image-objects, and with her interactive and action take on her graduate thesis, Julie Šišková from the Studio of Ceramics and Porcelain has crossed the boundaries of design into the domain of free art.
These works by the youngest generation of artists are worth seeing not only due to their originality, but also due to their close connection with current social issues.