GLASS BROTHERS - Filip & Lukáš Houdek
8 Dec 2016 – 26 Feb 2017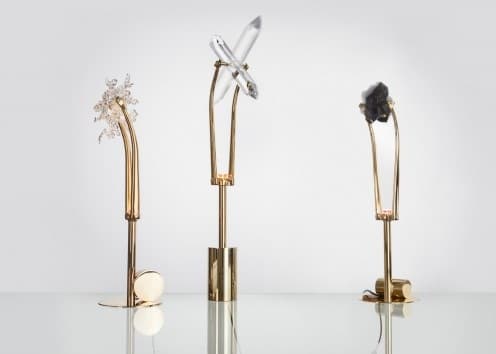 Nový Bor natives and brothers
Filip and Lukáš Houdek
, who look for
new applications for traditional glassmaking elements,
will present among other works lit objects that cross the boundaries of design and fine art, in the
DOX by Qubus
design shop.
As well as their glassmaking education, both brothers above all share an effort to
move the boundaries of the field, which is considered a national treasure.
They don't consider the glassmaking tradition either as an untouchable icon or an anachronism; instead, it serves as a great inspiration and a starting point that in no way restricts them.
Lukáš Houdek, who was introduced to glassmaking by his older brother Filip, is a glassmaker with a fresh approach who projects typical Czech humour, detachment, and contextual games into his products. He uses glass to show humour and look for new contexts.
Filip Houdek is a designer with a broad range of experience who works primarily as a lighting designer. H is work focuses on a merger of metal and glass, emphasizing smooth lines in combination with stainless steel, often utilizing free-​form techniques with an emphasis on detail.
Their work bears the hallmarks of the manufacturing, technical, artistic, and intellectual support of the Nový Bor brand HG ATELIER DESIGN, which primarily focuses on design and manufacture of lighting, glass products, and individual artefacts, and where they also produce their own designs.
DOX by Qubus will feature the latest glassmaking efforts of this duo.