Hughie O' Donoghue: The Road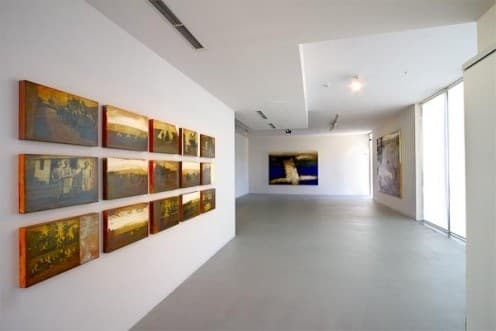 DOX Centre for Contemporary Art presents one of the leading Irish contemporary artists Hughie O´Donoghue (1953). In his cycles of paintings, the artist reflects the topics of time and memory. The exhibition introduces large format paintings of diving and falling figures reflecting the tragic correspondence of the image of the diver, symbolizing the purposive leap from one world to the next, with news footage of people jumping to their deaths from the World Trade Centre.
The main cycle Road, installed in the corridor, inspired the title of the whole exhibition. The Road is a key theme for O'Donoghue's recent body of work. It is a metaphor. It is a symbol of the journey, the home and family left behind, the venture into the unknown. O'Donoghue is trying to define experience as exemplary, to find in the particular history of an individual a reflection of what is common to whole populations, to humans as beings. Road is to a significant degree an archival project, drawing on a wealth of historical documentation, much of it of an immediate personal nature. This documentation is incorporated in a succession of densely worked, layered paintings. He is a textural painter, adept at working and reworking the picture surface so that it is as if the image emerges from deep within. But everything he does is also richly textured in terms of its complex layers of meaning, in his work there is a constantly developing cross-​referencing between and interweaving of the personal, the factually historical and the mythic.
"Imaginings, memory and dreams are key components of the paintings O'Donoghue made over the last ten years. He has been preoccupied with memory and how memory is constructed. Although memory is personal, there is also a broader cultural memory that is shared and O'Donoghue's multi-​layered paintings are an exploration of this. His consistently powerful output demonstrates that painting is a medium that still offers infinite opportunities."
Tanja Pirsig Marshall