Ivana Šrámková: I Can't Stop
21 Sep – 31 Oct 2011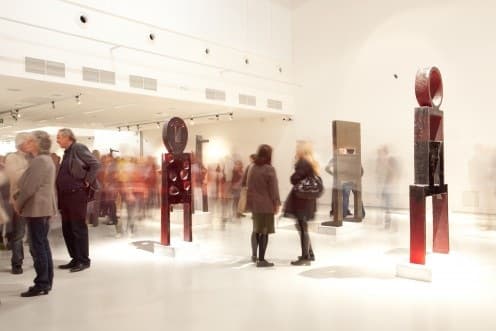 The exhibition entitled I Can´t Stop presents a selection of works from recent years by Czech sculptor Ivana Šrámková. An extensive installation in the area of more than 400m2 contains a number of large colour sculptures made of melted glass. The Czech audience, familiar with Šrámková´s work, has the opportunity to see her latest collection of smaller objects.
"The sculptures of Ivana Šrámková are three-dimensional distillations of basic figurative forms, both animal and human, with a healthy dose of character. Reduced to their essence, each is described in a language of simple, geometric symbols. What makes them extraordinary is Šrámková's ability to give them just enough of the archetypal to make them identifiable, just enough gesture to endow them with wit, and just enough reference to make them universal."
Heller Gallery
Ivana Šrámková was born in 1960 in Liberec. She studied at the The High School of Applied Arts for Glassmaking in Železný Brod and later was a member of professor Stanislav Libenský's class at the Academy of Applied Arts. During her career she has staged twenty solo exhibitions and participated in almost forty group projects.
Šrámková has been awarded several prestigious prizes for design. Her sculptures are represented among others in the collections of the National Gallery and the Museum of Decorative Arts in Prague, the Victoria and Albert Museum in London, the Museum of Modern Art in Lausanne, and a number of private collections both in the Czech Republic and abroad. She lives and works in Prague.