Jan M. Tomeš – Poems
3 Aug – 6 Sep 2015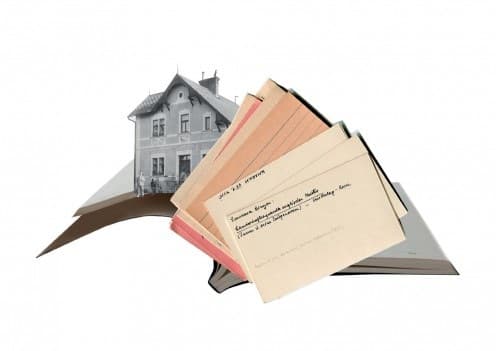 The exhibition takes place at the
Art Archive
at DOX within the project
Polička/Shelf.
Exhibition opening:
3 Aug, 5 pm
A house, evidently the same one that stands surrounded by old gardens. The Kunštát house of poet, art historian, and essayist Jan M. Tomeš is the starting point as well as the direct subject of this book by Michaela Pospíšilová Králová (*1982), a member of Tomeš's family. A book that strives to carry the interior of the house through time – not as a physically persistent house, but as an environment for life.
The family home is seen here not as an architectural type, but as one type of various human residences handed down among people of various times continually, thus including memory.
The book offers the reader a set of digital collages of photographs from the family archive and the author's own photos of objects in the house. The spaces that are opened up by the author's photo collages are sequenced according to the logic of the house, and the order in which its rooms are entered can also be varied.
In the photographs, the voices of poets such as Klement Bochořák, František Halas, and Ludvík Kundera still reverberate, but the photographs tend to evoke only names rather than people.
Personal experience fades away, memory becomes general. Photographs and a model of an airplane are now more of period props and awareness of the passion Jan M. Tomeš had for aviation becomes secondary. Skácel's ad-hoc poem on a postcard is only a literary footnote. But only thanks to them can we still enter the time of their life through the book.
Curator: Lucie Rohanová