Jaroslav Zaorálek – From a Translator's Library
7 Aug – 4 Sep 2017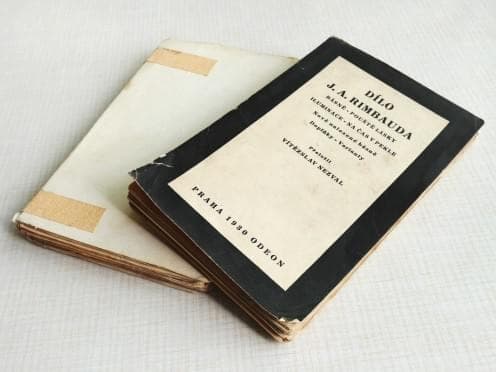 This exhibition featuring personal diaries is taking place at the Archive of Fine Arts as part of the Polička/Shelf project.
What is the value of a book? Jaroslav Zaorálek (1896 – 1947) spent his entire life with books. He translated primarily from French, but also from German, Italian, English, and Spanish. He worked with all literary genres, and aside from his award-winning translations, he also published his own collection of folk sayings. So one can doubtlessly claim that this educated man knew the value of books. They were dear to him. And doubtlessly he would have never intentionally destroyed them.
And yet the titles in his library are reminiscent of a salad, whose pages hold fast only by luck and two pieces of old bandages, because the spine is long gone, including first editions signed by the author.
If one picks up Zaorálek's copy of the collected writings of J. A. Rimbaud, as translated by Vítězslav Nezval, one gives pause. How could this have happened? The book is complete, but through use it has fallen apart entirely, and the corners of its pages have become rounded. Within the text itself, its reader has written numerous notes and comments, the significance of which becomes clear only once one has seen Nezval's thank-you in his afterword. It is a book that Zaorálek helped translate – and in which he couldn't stop making corrections even after it was published.
And so it is with many other books from the translator's library. None was damaged intentionally or through negligence. They aren't crumpled or stained with coffee. When you page through them, you soon realize that the original owner did exactly what you are doing. He paged through them and read. Just much more often and longer, for many hours and many years.