Jiří Pelcl – Big and Small Objects
24 Sep – 23 Nov 2015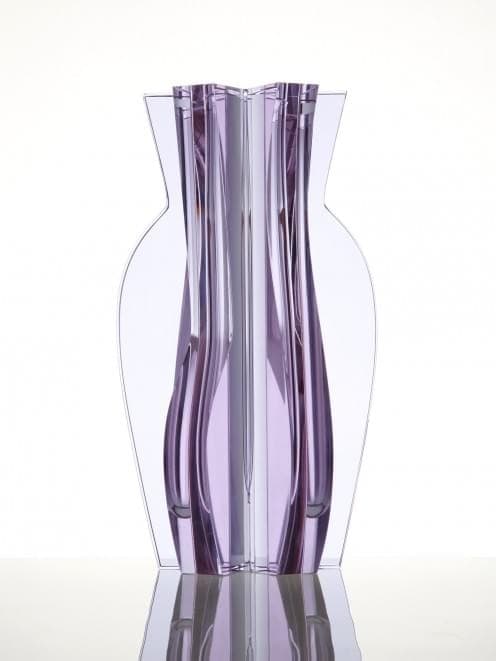 This exhibition of the work of designer Jiří Pelcl is a dialogue between monumental objects and small items. The exhibition's main motif is proportion to reality, a scale that is relative, relational.
Architectural space relates to the human body and its movement, and its perception can be fooled, manipulated, or affected with visual effects. Pelcl's object entitled Tree, located in Science and Technology Centre Ostrava, appears unfinished and overly large. It symbolizes the archetypal tree, in many cultures and religions the tree of life, the cycle of life energy. In comparison, the Universe installation in Ostrava is a tunnel suggesting infinity, a smaller version of the real universe. Aside from other works, the exhibition presents models of both of these installations – miniatures of an enlarged tree, and of a shrunk universe.
Jiří Pelcl plays not only with scale and its relativity, but also with the meaning and sense of things. He provokes our imagination when he mixes the scales of large and small objects, animate and inanimate nature, and problematizes the matter-of-course unambiguousness of things. To the scale of the human figure in space, he adds the scale of the human hand and grasp. A world of relatively small things, surprising in their mass and surface quality. As proven by Powers of Ten (1977), the famous film by architecture and design duo Charles and Ray Eames, the palm of the hand and the universe can be visually interchangeable, and their size is relative. Due to scale, small things can be large, even larger, and large can be small, and even smaller. Jiří Pelcl's exhibition urges us to take a similar perspective.
Jiří Pelcl (1950) is a prominent personality in the field of design in the Czech Republic and abroad. He is a professor at the Academy of Arts, Architecture and Design in Prague, where during 2002-2005 he was a rector. Aside from applied design activity for industrial manufacturing, he works in the area of design theory, lectures at colleges and universities at home and abroad, and publishes. He as received a number of awards for his design activity – the Czech National Design Award in 2006, the Form award and the Design Plus 2007 award in Germany, the Czech Grand Design award for designer of the year 2006, the Future Design award in Seoul, and the Slovak National Design Award in 2011. His work is included in the permanent design collections of the National Gallery in Prague, of Die Neue Sammlung in Munich, of the Museum für Angewandte Kunst in Zurich, of the Swedish Glassmuseum in Smalands, and of the Museum für Angewandte Kunst in Frankfurt.
Curator: Iva Knobloch
Photos from the exhibition opening 23 September 2015.