KAMILA ŽENATÁ and Guests: Event Horizon (Finale)
2 Jun – 11 Sep 2017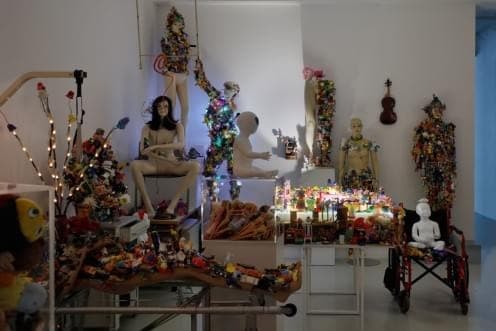 "The key themes of Kamila Ženatá's project Event Horizon are the loss of the ability to enter into relationships, imprisonment in the cage of one's own mind, and the absence of respect for nature, the world, and the universal source of life. Willfulness is passed off as freedom, narcissism as the norm – and this distorted self-image is crushing human relationships and the entire planet."
Milan Ohnisko, exhibition curator

Event Horizon is a unique project on the Czech art scene, both in its focus and its duration. Kamila Ženatá initiated a living process – an experiment whose objective is to report on the internal events that create one's mental reality in the liquid time of globalized consumerism.
In 2014 a group of seven women accepted Kamila Ženatá's offer. They decided to undergo a group experience in self-discovery and began working in her studio . During this time they described their childhood, relived and charted out systems in which they had been raised, shared their narratives, described dreams, grew close to each other or on the contrary fled each other... They underwent a long pilgrimage during which they courageously provided their inner testimonies. Thus the cornerstones of the previous two parts of the Event Horizon project were laid, which took place first in Karlín Studios (2015) and then in the Venuše ve Švehlovce centre for contemporary alternative theatre (2016).
Part three – the finale – is the culmination of the entire project, to which Kamila Ženatá also invited other artists: Daniela Baráčková, Šárka Basjuk Koudelová, Jakub Grosz, Lenka Janušková, Lenka Lagronová, Milan Ohnisko, Michal Pěchouček, Janek Rous, Jiří Vyskočil, and Kateřina Závodová.
Kamila Ženatá
(1953) asserted herself on the Czech art scene with her comprehensive work with exhibition space, various media, and an emphasis on a unique personal experience. She graduated from the Academy of Fine Arts in Prague in Professor Ladislav Čepelák's studio. She is known as an artist who combines her knowledge and intuition with a targeted, long-term interest in individual and social memory. She is interested in dreams, memory, stories and emotions, especially their principles and ways in which they influence our paths through life. Ženatá, who aside from art also works in psychoanalytic therapy, has exhibited in galleries in Switzerland, Germany, Holland and other countries.
www.kamilazenata.cz
PUBLIC PROGRAMMMES
7 June 7pm
Helena Klímová: How to Sail Well Against the Liquidity of Time
A lecture and discussion with H. Klímová on time and its meaning in life, the order of time, the nuisance of dependence. Helena Klímová is a psychoanalytic psychotherapist, a group analyst, and a founding member of the Czech Society for Psychoanalytic Psychotherapy, IGA Praha, The Prix Irene Committee, and the Rafael Institute.
23 June 7pm
Radkin Honzák: Psychopaths Among Us
A lecture and discussion with Dr. Radkin Honzák, a psychiatrist with a clear affinity for psychosomatic thinking, thus a bio-psycho-socio-spiritual concept.
Radkin Honzák is an outpatient psychiatrist at IKEM and REMEDIS, a secondary physician at the Bohnice Psychiatric Hospital, and an assistant at the Institute of General Practice of the First Faculty of Medicine at Charles University.
28 June 7pm
David Holub:  Infertility and Non-thinking: Psychoanalytic Contexts
A lecture and discussion with Dr. D. Holub, a member of the Czech Psychotherapy Association, Czech Society for Psychoanalytic Psychotherapy, and the co-founder and former editor-in-chief of Revue psychoanalytická psychoterapie [Psychoanalytic Psychotherapy Review], on the little-discussed topic of infertility and assisted reproduction from a psychoanalytic perspective.
19 June 6pm
Guided tour with artist Kamila Ženatá
16 June 6pm
A reading of Lenka Lagronová's play Event Horizon, which was written gradually during a three-year project
28 August 4pm
A workshop by Robert Moss, an enthusiastic guide for the technique of Active Dreaming, an original synthesis of shamanism and modern dream work. Moos was born in Australia and during his childhood had three near-death experiences. He conducts seminars throughout the world and has written many books on dreaming, shamanism, and imagination.
6 September 6pm
Guided tour with artist Kamila Ženatá
11 September 6pm
Guided tour with artist Kamila Ženatá
Reservations for all events: rezervace@dox.cz