KAREL NEPRAŠ
8 Jun – 1 Oct 2012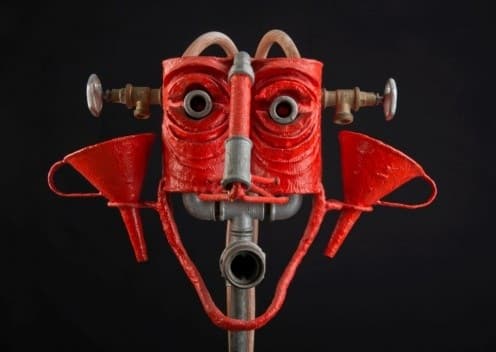 The DOX Centre for Contemporary Art prepared a retrospective of Karel Nepraš for the summer of 2012. Nepraš is one of a small number of leading Czech artists to whom Czech museum and gallery institutions owe a representative exhibition and publication. The exhibition maps Nepraš's sculptural and graphic art within the contexts of the time of their origin, and shall for the first time provide an overall view of his work, without which it would be impossible to imagine Czech sculpture of the second half of the 20th century. The exhibition presents the artist's most prestigious pieces, as well as lesser known or entirely unknown works. It is prepared by the curator team of the DOX centre in co-operation with the artist's family, friends and experts on his work. An extensive monograph with a detailed documentation and texts by a range of authors engaging with the artist's work shall be published for the occasion of the exhibition.
Take a virtual tour!
Karel Nepraš emerged as one of the most innovative Czech artists in the latter half of the 20th century. He and his generation of artists were responsible for a boom of Czech visual culture in the 1960s. He first distinguished himself as a cartoonist and cartoons inspired his sculptures. This unusual intersection of sculpture and cartoon humour shaped the unique nature of Nepraš's oeuvre. The artist himself described it as a clash of humour and gravity. According to him, humour was not only an artistic strategy but a defence mechanism for preserving sanity in a society full of absurdity. In the 1950s and 1960s he co-founded two artistic groups, the Šmidras and the Crusaders' School of Pure Humour Without Jokes.
Nepraš's sculptures are intimately associated with two themes – the cavity and the potential motion. They can be seen in the sources he drew his inspiration from – puppets, the mechanical motion of cogs and gears, and finally fountains, pumps, sanitary and sewage systems. His red figures of the 1960s reveal their cavities, the 1970s sculptures cast from iron evoke a mechanical motion in their
gears and cogs. Political developments following the occupation of Czechoslovakia in 196 dramatically limited the artist's exhibition activity and participation in the international art scene, curtailing his creative output. Only in the late 1980s Nepraš was able further to develop his earlier themes. His new sculptures, made out of plumbing pipes and industrial tubing and inspired by sanitary and sewage systems, reintroduced the cavity back to his work and reconnected it with the potential motion of infrastructure systems. Organized to commemorate the 10th anniversary of the artist's death, this most extensive exhibition to date seeks to contribute to a wider recognition of Nepraš's work, especially among younger generations and international public.