Kateřina Černá – He Fished a Pickle out of the Jar
2 May – 6 Jun 2016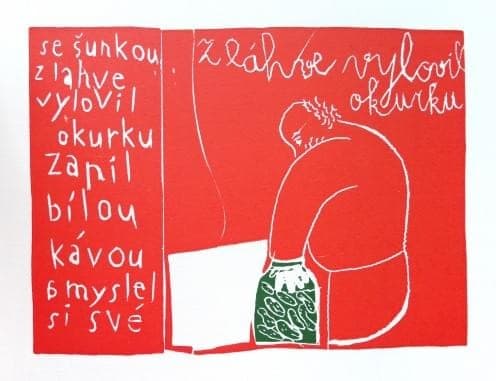 Meet the author on Monday 9 May at 5 pm at the Art Archive.

Kateřina Černá (b. 1937 in Prague) graduated from Karel Souček's studio at the Academy of Fine Arts (AVU) in Prague. However, from the beginning her paintings, puppets, and books have been characterized by a delicate, female style that has nothing in common with the work of her fellow students and teachers.
It would be possible to classify her among naïve artists. But this isn't entirely accurate. She's simply Kateřina Černá: an impertinent, witty, and ingenuous girl from the pages of books. And this is intentional, a stylization that is Kateřina's own, a lyrical world – kind and womanly, that she created and into which she invites us.
Kateřina Černá's first books date back to the beginning of the 1960s, and dovetail seamlessly with her earlier work as a painter and puppet-maker. The first few are just small booklets, hand-bound, written and drawn with a fountain pen. Only later did she begin to create larger books, increasingly often printed using etchings or linocuts, and hand-coloured.
However, even here, the handwritten element is entirely characteristic. Only rarely does Kateřina Černá use a typewriter. And similarly as Andy Warhol had used his mother's handwriting in children's books, decorative handwriting is part of her approach.
All of Kateřina Černá's books could never fit into the May edition of Polička/Shelf at the Art Archive, so we've picked just a few examples for you.
Anna Pleštilová