Klára Šumová, Dirk Wright: Oáza Collection
25 Feb – 25 May 2016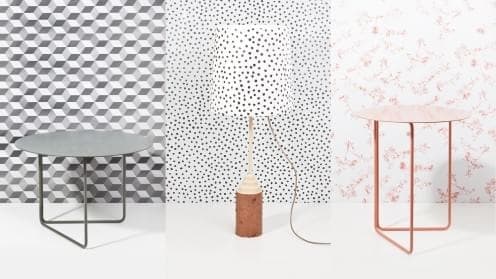 The exhibition takes place at DOX by QUBUS designshop.
An oasis is an external site, existing simultaneously as either refuge or repose. Product designer Klára Šumová and graphic designer Dirk Wright have internalised this binary with the Oáza Collection – furniture and accessories for your oasis. 
Together, they are interested in natural materials such as wood and metal, for their ability to absorb time and change appearance, living for generations. The research-based collaboration connects areas of product design, interior styling, graphic design and illustration, creating unexpected harmony and contemplative results.
The Oáza Collection was first presented in 2013 at Designblok '13, Kafkův Dům (Kafka's House). Since this time it has been nominated for the Czech Grand Design Award and received several Elle Decoration awards (EDIDA). In 2014, Oáza was shown during the London Design Festival in TENT London. This year the project will be presented in Graz at the international exhibition Selected 2016.
Klára Šumová is an independent product and interior designer. After graduating from the Prague School of Applied Arts in 2011 (AAAD), she was named Discovery of the Year at the Czech Grand Design Awards. Her work is characterised by the connection of crafts, traditional cultural references, and modern functional requirements. She works primarily with natural materials, experimental surface treatments, and is most interested in the use of objects which span generations. 
Dirk Wright is a Canadian graphic designer and illustrator living and working in Prague. During his studies at Emily Carr University in Vancouver, he studied graphic design and printmaking at the Willem de Kooning Academy in Rotterdam. His graphic work is most often with a crisp, modernist foundation, and is always the result of a thorough research process — his illustrations are often playful and free, joining wit with subtlety.