Ladislav Kuk: "The Exhibition Was…"
1 Dec 2014 – 5 Jan 2015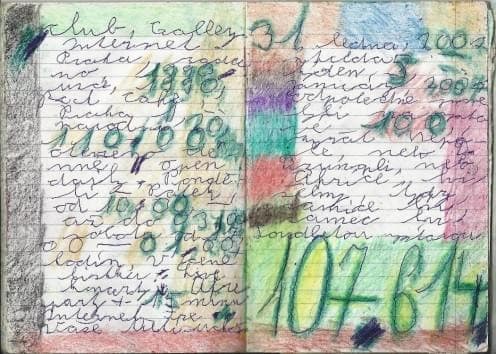 The exhibition takes place at the Art Archive at DOX within the project
Shelf
.
Opening: Monday, 1 Dec 2014 at 17:00
Ladislav Kuk creates monumental in-site works that exist on the border between diary entries and specifically visually arranged "author's book" spaces. Dozens of his notebooks, which will be presented at the Art Archive in December as part of the Polička/Shelf project, record his movement in the world, one that appears differently to him as a person with Down's Syndrome, and makes different demands on him than on others. But Ladislav Kuk comes to terms with this world in his own way, with immediacy and joy. 
He has a deep sense of visual beauty, each year visiting hundreds of exhibitions that he records in detail in his entries, capturing them verbally and graphically in a different manner than we would expect. His direct and original vision is very inspiring in this otherness, but even more so through what is natural in his approach to the world for every human being – an effort to orient oneself in the world, to create order from chaos, to organize space-time, a personal grasp on reality, plus a rarely seen deep unity between creation and being.