Martin Kubát: It's evening, release the devil!; Purge
4 – 31 Mar 2013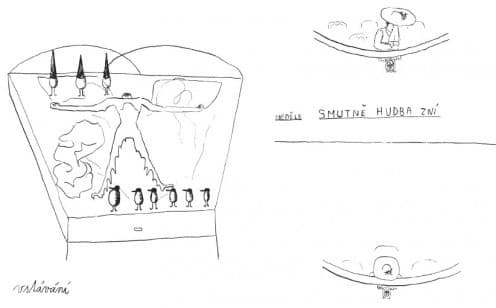 Shelf
At the Archival library at the Center of Contemporary Art DOX, we have dedicated a space (a shelf) to present artists who work with books as a unique means of expression. Visitors will be able to view and leaf through the pages of the exhibited artist's books. A part of the exhibition will present the documents of authors stored on the abART system.
Project curators: Lucie Rohanová, Barbora Špičáková
Exhibition opening: Every first Monday of the month.
Martin Kubát is a graduate of the Illustration and Graphics studio at AAAD. He studied there under the influence of Jiří Šalamoun for the first 3 years. His last 3 three years at the school were under the leadership of Juraj Horváth. Books were always an important part of Martin's work. His drawings and graphics, are often based on himself, strung together in logical units, and almost always presented this way. For several years he participated in the joint projects of the group Kopr (Dill) (with emphasis on author's books) and BOX (mainly on comic works).
At the end of February 2008 Martin Kubát graduated with his authorial book: Je večer, vypusťte čerta! (It's evening, release the devil!). Martin's book introduced a distinctive style par excellence, won the Most Beautiful Czech Book of the Year award in 2008 in the category of student works and a year later was published by FRA. Martin participates in the visual format of titles at the Publisher FRA and the magazine A2, and he also works with the theatre Divadlo Archa and in this way his idiosyncratic style appears in further publications.
Martin's work which is characterized by his personal expression, does not imitate, he is his own man. He cuts, claws and scribbles and his pictures are interwoven with his own apt notes and screams. In this way he manages to create a humorous, blunt and honest commentary. Martin's drawings gain further importance and meaning through the way in which they are interrelated and the order in which they are placed and viewed. They repeat themselves periodically or randomly, as can be seen in his books.
On The Shelf in March 2013 Martin presents his original authors book Je večer, vypusťte čerta! (It's evening, release the devil!) along with Čistka (Purge), his latest endeavour.