OVER THE LINE – One way return ticket
11 Apr – 30 Jun 2014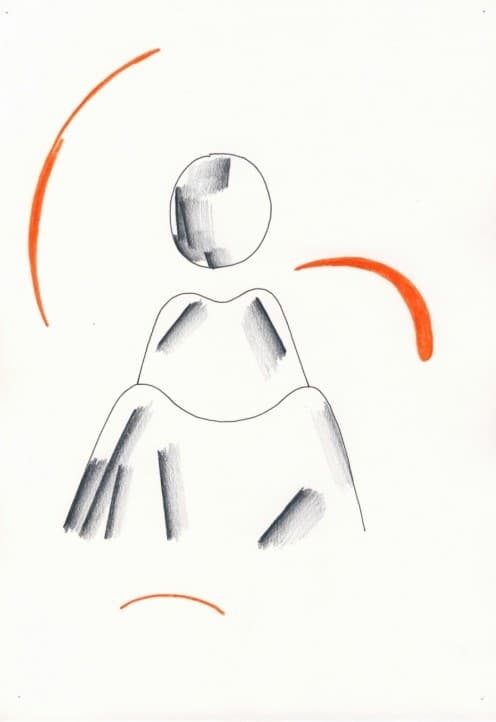 The extensive art project entitled OVER THE LINE – One way return ticket deals with the effectiveness of an art college education. It is based on the six-year tradition of BELOW THE LINE exhibitions that presented unsuccessful public art college applicants without any sort of institutional selection. The BELOW THE LINE project was thus an open platform for the work of each artist to without restriction. The OVER THE LINE – One way return ticket takes this idea and develops it further. It works with artists who participated in at least one BELOW THE LINE exhibition, but subsequently were accepted to an art college, and are either still studying or are fresh graduates.
The exhibition's goal is not to present a homogenous analysis of issues involving post-secondary art education, but to shed light on this area via the work of several specific artists and their work.
Curator Tereza Jindrová thus chose to reduce the number of exhibitors in favour of quality and a relatively open formula for the selection of concrete works. A selected group of artists (15 in total) was approached, each of which was asked to select four works that according to them best met the following four rules/categories:
1. a work from the period prior to being accepted at a college;
2. a work that received positive evaluation during studies;
3. a work that on the contrary encountered negative evaluation or incomprehension;
4. a work that the artist would submit during the application process if he or she were to apply to art college now
The artists were given the same criteria, but its realization was left up to them. A total of four works from each exhibited artist symbolically covers their studies up to now, and thus also concentrates certain characteristic aspects of art education in general. In this manner, the exhibition always presents one artist with several works and allows his or her artistic development to be followed. The act of selecting from among one's own works contains an important moment of self-reflection and honesty to oneself, but also a certain degree of freedom of decision, which is not exclusively in the hands of the curator. The requirement to select on work from the preschool period simultaneously disturbs the mostly forward-looking linearity in the process of exhibiting living (especially young) artists, who only rarely agree to the public presentation of their older work. However, despite these criteria, all works are presented at the exhibition without any sort of hierarchy or timeline, allowing the viewer to judge them according to his or her own subjective yardstick.
The project also includes a publication that addresses the issue of relationships between art schools, art and real life. It contains essays by and interviews with 50 leading personalities of the Czech art scene (Aleš Najbrt, Roman Týc, Otto Urban, Kateřina Šedá, Michael Rittstein and others).
The exhibition will be accompanied by an interactive workshop, lectures and other activities that will provide the general public a perspective on the issues involved in the art education system and will launch a discussion on this subject.
Exhibiting artists:
Epos257
Jan Hladil
Jakub Jurásek
Martina Kratochvílová-Štochlová
David Krňanský
Kristýna Malovaná
Pavel Matoušek
Jakub Spurný
Matyáš Trnka
Curator: Tereza Jindrová
Exhibition production: Alexandra Karpukhina
More at: www.projektnadcarou.cz

Photos from the exhibition opening 10 April, 2014.