Patrik Hábl – Transformations of Landscape
3 May – 1 Jul 2013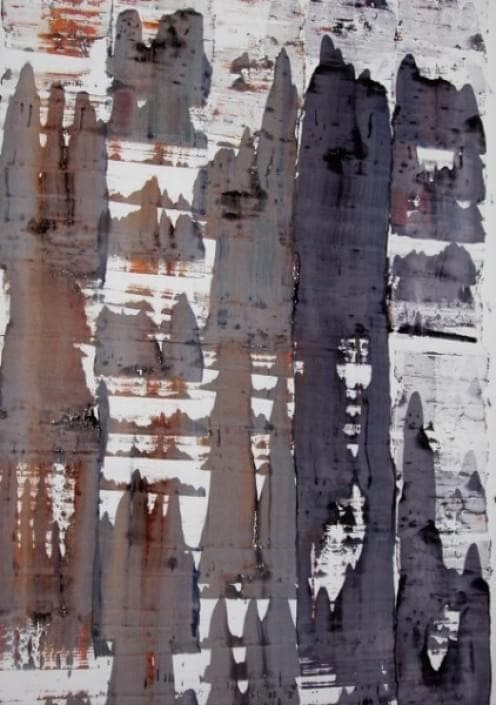 Through his exhibition Transformations of Landscape, Patrik Hábl, one of the most prominent artists on the contemporary domestic painting scene, fully shows the strength and beauty possessed by traditional art forms even in the current multimedia era. Over the three stories of exhibition space of the Tower, the winner of the Visitors' Prize of the DOX Centre for Contemporary Art at the 2012 Art Salon for painting has you climb from the Concept of Originality up to The Chapel.
Patrik Hábl preserves the visual and aesthetic attractiveness of classical landscapes, despite primarily capturing the landscapes of his own mind. For line and shapes, which he often applies without using a brush, still remind us on a mental level of our world and traditional ideas of how it should be pictured.
On the other hand, freed of specificity and realism, these paintings much more easily find their way on an emotional level to the basic feelings and concepts around which our life revolves. One cannot fail to mention their recent exhibition on the sacral premises of St. Salvator Church on Prague's Křížovnické náměstí, where they merged with its spiritual décor in an entirely organic manner. On the exhibition's top floor, The Chapel awaits, with its imposing six-metre canvases perfect for introspection and meditation. In the "lower spheres" one then encounters monotype scrolls, references to 19th / 20th century Japanese woodcuts, and an experiment with the perception of originality and intellectual property rights, where the artist hired five artists from Africa, India, China, Brasilia and the USA to paint copies of one of his paintings. Finding out which one is the original is left up to the viewer.
But Hábl's work can also be perceived as a significant link between the artist's / viewer's favourite natural scenery and its reflection in us. Patrik Hábl has long concerned himself with the connections between our internal world and the surrounding landscape. As he says:
"Today, we aren't interested in the landscape because we don't live in it and don't pass through it. We live in a globalized era full of shopping centres and highway overpasses, and don't suspect that something is starting to happen to our internal landscape as well; we don't know who we are."
Patrik Hábl (1975) graduated from the Academy of Arts, Architecture and Design in Prague (AAAD) under the tutelage of Prof. Pavel Nešleha, absolved one year in Mikoláš Axmann's graphic studio, spent a year at Muchina Academy in St. Petersburg and a year at Prague's Academy of Fine Art in Vladimír Kokolia's studio. He is currently teaching at AAAD. His work is exclusively abstract, oscillating on the border between painting and graphics. His painting oeuvre follows up on Josef Šíma, Václav Boštík and Vladimír Kokolia.
Photos from the exhibition opening, 2 May, 2013