Projektil33
14 Dec 2017 – 4 Mar 2018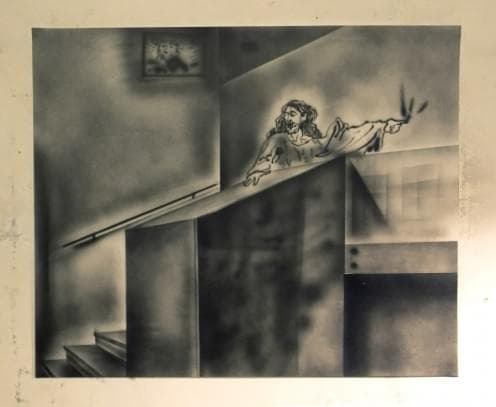 Eleven projects of the Projektil architectural studio in the hands of leading contemporary photographers and artists
If writing about music is like dancing about architecture, what is photographing architecture? And what about drawing, painting, or video? Where they jump ahead of each other, who dances solo, and whose feet get trod upon? It is apropos that the exhibition pushes the limits of depicting architecture on projects by a studio that has made a name with prizes for the National Technical Library in Prague, the Science Library in Hradec Králové, or the Sluňákov eco-centre, as well as an ongoing interest in the public space and open multi-disciplinary collaboration. Selection of the most interesting contemporary artists and photographers whose work doesn't usually concern architecture and their very varied focus on Projektils's educational institutions, museums, or parks as prerequisites that define what life will be like, dismantle the widespread conventions of architectural photography that favours impressive empty forms. 
They are accompanied by texts by exhibition curator Michal Nanoru.
Artists and projects: Ateliér Malátova Praha (Tereza Havlínková, Josef Bolf), Sluňákov Centre for Ecological Activities (Jiří Thýn, Anežka Hošková), The Belveder Forest Park in Prague-Zbraslav (Michal Šeba, Jakub Matuška aka Masker), Městská knihovna a kulturní centrum Vozovna Praha The Vozovna Municipal Library Cultural Centre in Prague (Václav Tvarůžka, Michal Pěchouček), The Chrudim Museum of Baroque Statues (Václav Jirásek, Eva Maceková), Nábřeží Maxipsa Fíka in Kadaň (Jiří Hroník, Martin Kubát), The National Library of Technology in Prague (Libuše Jarcovjáková, David Krňanský), The Hradec Králové Research Library (Vojtěch Veškrna, Martin Lacko), The VIDA! Science Centre in Brno (Vendula Knopová, Jakub Jansa), The Open Gardens Educational and Advisory Centre in Brno (Dušan Tománek, Jarmila Mitríková & Dávid Demjanovič), The Líbeznice Elementary School and Elementary Art School (Hana Knížová, Eva Koťátková)
This project has received support as part of the AAAD Academic Grant Competition.
Exhibition partners:
This project has received support as part of the AAAD Academic Grant Competition.