Radim Labuda - Aspects of The Great Man
6 Sep – 17 Oct 2013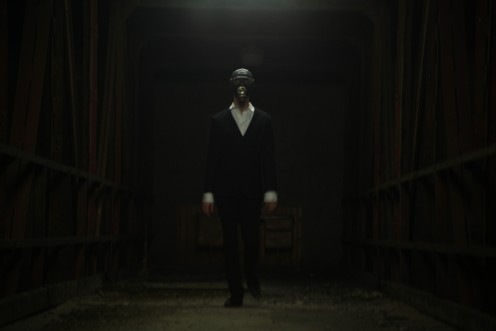 The second exhibition of  project p.s., the newly created exhibition space at center DOX, is devoted to the Slovak artist Radim Labuda (1976). Labuda came to prominence in 2008, when he won the Jindřich Chalupecký Award. His current exhibition Aspects of The Great Man represents the artist's return in a new guise and the culmination of a two-year long project, at the core of which is the myth of Mr Greatman, an archetype of the contemporary individual.
From the very outset Labuda worked mainly with new media, especially video. His early work is characterised by an interest in the gaze and the process of observing. Through the camera lens he becomes a silent observer of his own surroundings, and often of himself, thanks to a performative element. For Labuda the camera is a method of both extrospection and introspection. Even though his conceptually based videos have until now been free of a unifying thematic link or predetermined narrative, they have always been connected by the human body and questions concerning physicality. The body is a form of politics for Labuda, a means of examining social relationships, the boundaries and facets of human existence. This also becomes apparent in the current exhibition.
Recently Labuda's work has undergone a considerable transformation. While he remains faithful to the moving image, text now occupies an integral place in his work. Many of the formal aspects symptomatic of his earlier work persist. The figure and its broadly existential dimension remain, along with a performative level, work with the camera, and a meticulously cultivated observational sensibility. However, the subject matter no longer comprises a series of anonymous actors and isolated projects. Labuda's current work is determined by a story, that of Mr Greatman, which the author is gradually narrating in individual videos and video installations. Text is not used as an interpretative prompt or script. Instead it is a new part of the creative process and alongside video a complementary device for the gradual development and communication of a mythology, the story of a human archetype, the "product" of modern society.
The exhibition Aspects of Mr Greatman is the culmination of Labuda's project and perhaps its last chapter. It is the embodiment of a mythology and a psychological analysis of the contemporary individual, whose aspects are alive in each of us.
Curator: Markéta Stará

Photos from the exhibition opening 5 September 2013.

With support: