Richard Kočí - Swirling Dust
3 Jun – 29 Aug 2016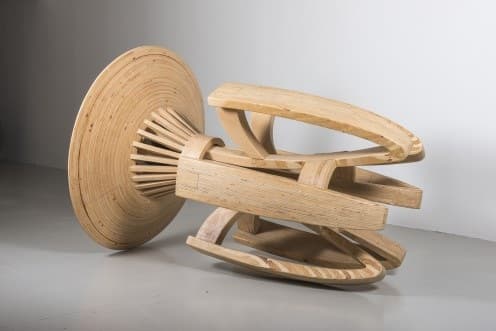 The Swirling Dust exhibition features sculptor Richard Kočí's most recent work, which in recent years has been moving away from monumental wooden sculptures dominated by architectural rationality, towards shapes distinguished by playful colours and organic polymorphism.
Richard Kočí (1954) left Czechoslovakia in 1967 for the USA, where he studied art at North Texas State University, and then later moved to Spain, where in Madrid he continued his studies in sculpture and printmaking, specifically gravure printing. For several years, he initially devoted himself to classical academic sculpture. As time went on, his style developed and figurative influences gave way to the greater openness, represented at that time by abstract art and a patient effort to familiarize himself with various materials such as wood, marble, and bronze.
Upon his return to the Czech Republic in the mid-1990s, he began creating his first monumental wooden sculptures, which became typical for him for some time, even though he continued to devote himself to painting and printmaking.
The objects that Richard Kočí has created in recent years are quite different from his previous work. Though a tortuous line remains as the foundation of shape, this sculptures are brightly coloured, wood has been replaced by polyester resin, and rationality by looseness and playfulness.
Here is what the artist himself has to say of his latest work:
"Once there was a word, then a thought, then paper and a line. Then a sketch was made, and from it a statue. In between, there was a lot of pondering as to why it should look the way it does and not otherwise, and what that means. Today I'm not burdened by the need to analyze everything around me. That's one of the advantages of middle age. One doesn't have the need to understand everything. Either you've already understood something, or most likely never will. That's liberating.
This is the internal freedom and relaxed attitude I've brought to bear on sculptures I've been making recently. It's a semi-automatic process, at least at first. Eventually it gets a bit more complicated, and my thoughts lose their way in the swirling dust.
In the past I was convinced that I'm not telling any sort of story, that my work isn't descriptive. But I also thought that I needed a reason and content. Today, I on the contrary think that I need neither reason nor content – and that everything in life is about a narrative. An experience creates a narrative, and art, consciously or unconsciously, reflects all one's experiences and knowledge. The narrative continues, experiences repeat, and just the final appearance of the art changes. But the gist remains de facto the same.
From the perspective of eternity, nothing is important. From the perspective of the immediate and subjective present, even an absolute banality takes on influential dimensions. I don't precisely know the purpose of my work, but I do know that it doesn't really worry me anymore. But when something works out well, I feel happy. And that feeling of happiness is an addictive one."
Curator: Vlasta Čiháková Noshiro