Stanislav Libenský Award 2016
15 Sep – 14 Nov 2016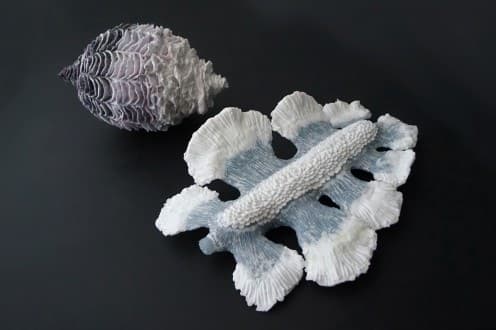 The Stanislav Libenský Award (founded in 2009) is an international competitive glassmaking exhibition that every autumn in Prague presents the best work of graduates of art colleges who used glass in their degree projects. Visitors can thus see how the phenomenon of artistic glassmaking is developing on an international level through the arrival of a new generation of glassmakers. This exhibition is the only one of its kind in the world.
For young glassmakers, the annual award provides career development opportunities, while for the public it is an opportunity to see both fresh and traditional approaches to glassmaking. It is of course also a tribute to an artist and teacher who is rightly considered the greatest Czech glass artist.

LIST OF EXHIBITING ARTIST:
Victoria Ahmadizadeh, Li Ao, Virginia Binsch, Nozomi Deguchi, Kristina Drnovšek, Ieva Gaine, Lukáš Houdek, Johanne Jahncke, Mirka Janečková, Natsuki Katsukawa, Juri Kimura, Nikola Kovalíková, Susanne Kunkel, Odelia Leuchter, Ye Lin, Sophie Longwill, Karina Malling, Marta Matejková Vjatráková, Emily McBride, Jagoda Nowak, Clare Peters, Eglė Petronytė, Vendulka Prchalová, Lucia Regásková, Rafael Alejandro Zarazua Rosales, Michelle Ryan, Ebibi Salomée, Hikari Sasaki, Kana Suzuki, Helena Ťapajnová, Jean Thebault, Nataliya Vladychko, Linda Vránová, WuLin Xie, Cui Yue, Madisyn Zabel.
Stanislav Libenský Award 2016 winners

1st Prize - Natsuki Katsukawa (JPN) for Samples from a Microworld
2nd Prize - Karina Malling (DNK) for Transcendence
3rd Prize - Ebibi Salomée (FRA) for Times
A special award was granted by Corning Museum of Glass to Clare Peters (AUS) for Looking for Hope
Prizes were awarded by an international jury of renowned experts from the field of glass such as
Helena Koenigsmarková, the director of the Museum of Decorative Arts in Prague, 
Maja Heuer, the founder and director of the Glass Factory in Sweden,

Erika Tada, a Japanese glassmaker and teacher working in the USA and Japan,

Charlie Pariott, a US glass artist working in the area of fine art and commercial design since 1972, and

Petr Nový, the chief curator of the Museum of Glass and Jewellery in Jablonec nad Nisou. 
The expert consultant for the award is Milan Hlaveš, head of the glass, ceramic, and porcelain collection at the MGJ.
For more information, see www.libenskyaward.com