Stanislav Libenský Award 2018
21 Sep – 19 Nov 2018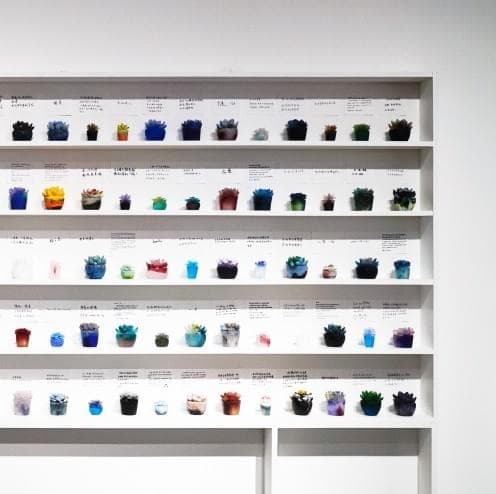 The Stanislav Libenský Award is an international competitive glassmaking exhibition that every autumn in Prague presents the best work of graduates of art colleges from around the world who used glass in their degree projects. This year's 10th annual exhibition features works by 32 artists from 17 countries, including the USA, Japan, China, and India.
For students it is an opportunity to meet and inspire each other, to compare various approaches and ways of working, and above all to present their work to an international public. For the public it is an opportunity to see the work of the most recent generation of glass artists from around the world in once place, and to thus get a glimpse of the future of a field with a long history in Bohemia.
The Stanislav Libenský Award is an homage to this important Czech glass artist. Together with Jaroslava Brychtová he developed a technique for fusing glass in a form, which allowed them to create monumental, timeless objects, and paved the way for glassmaking as a fine art throughout the world.
International jury
Barbara Banaś (POL) - art historian, curator of the Ceramics and Glass Department at the National Museum in Wrocław
Vesa Varrela (FIN) - artist and designer an icon of postmodern glass art
Jeff Zimmer (USA) - famous glass artist, currently active in Edinburgh, Scotland
Milan Hlaveš (CZE) - head of the Glass, Ceramic and Porcelain Collection at the Museum of Decorative Arts in Prague
Professional supervisor - Milan Hlaveš
Exhibiting Artists
Alicja Granat (POL), Aurelija Vainiūtė (LTU), Bhimanshu Pandel (IND), Chengyu Li (CHN), Dana Tannhauser (ISR), David Černý (CZE), Dawid Stroyny (POL), Edite Zulke (LAT),Emilia Marcjasz (POL), Eric Hess (USA), Gaby Berger (BEL), Jade Usackas (CAN), Ján Mýtny Jr. (SVK), Jana Němcová (CZE), Jeounghee Kim (KOR), Judith Roux (FRA), Maarja Mäemets (EST), Marcela Šilhánová (CZE), Martina Fabiánová (CZE), Monika Kozłowska (POL), Nikola Čermákova (CZE), Pavla Sedláková (CZE), Pavol Barkóci (SVK), Paweł Palewicz (POL), Petr Jambor (CZE), Sebastian Kitzberger (CZE), Siyu Zhuang (CHN), Ulrika Barr & Kristina Levén (SWE), Xinbo Wang (CHN), Yunxiao Wang (CHN), Yuka Okamoto (JPN), Zdeňka Fusková (CZE)