STARTPOINT: Prize for Emerging Artists 2014
19 Sep – 27 Oct 2014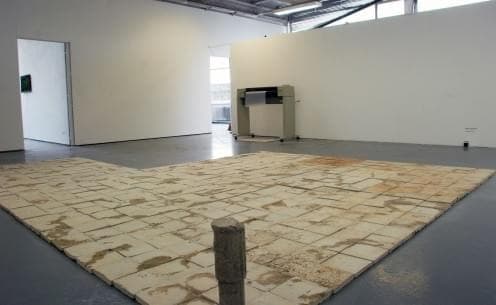 During its twelve years of existence, StartPoint has evolved from a national exhibition of graduation projects to an extensive project that follows young artistic talents throughout Europe. This year the team of curators looked at 24 art universities from 11 countries in order to select the most interesting graduation projects, which will be presented at the exhibition. On the day of the exhibition's opening, the international jury will award the main prize and several honorary mentions. Apart from the introduction of young emerging artists, the project aims to create a platform for encounters between up-and-coming artists and experts across countries, traditions and genres. This coming together is also being facilitated by a residential programme for the overall winner and other prizewinning finalists, and a constantly growing number of European repeat showings.
This year, the exhibition of StartPoint finalists will for the third time bring to DOX Centre for Contemporary Art in Prague the most interesting members of the coming generation of European artists.
Artists:
Pegah Amini (AdBK Nürnberg) / Alžběta Bačíková (FaVU Brno) / Kateřina Dobroslava Drahošová (FU OU Ostrava) / Gitte Hendrikx (KABK Den Haag) / Dominik Hlinka (VŠVU Bratislava) / Martin Hrubý (VŠUP Praha) / Eric Keller (HfBK Dresden) / Barbora Kleinhamplová (AVU Praha) / Manuela Marcovici (UNArte Bucuresti) / Kevin Rouillard (ENSBA Paris) / Lisa-Marie Vlietstra (GRA Amsterdam) / Naama Zusman (HKU Utrecht)
Curator's team: Pavel Vančát, project's curator, Marcel Fišer, director GAVU Cheb, project´s coordinator, Ondřej Chrobák, chief-curator Moravian Gallery in Brno, Lucia Gavulová, curator Slovak National Gallery, Bratislava
International jury: Christoph Tannert, artistic director Künstlerhaus Bethanien, Berlin, Radek Váňa, curator, Amsterdam, Jean-Marc Avrilla, curator, Paris
Organizer: Nadace Arbor vitae & DOX Centre for Contemporary Art
The project has been supported by the Ministry of Culture of the Czech Republic.
Photos from the exhibition opening 18 September 2014.