The Gulliver Airship
11 Dec 2016 – 27 Nov 2017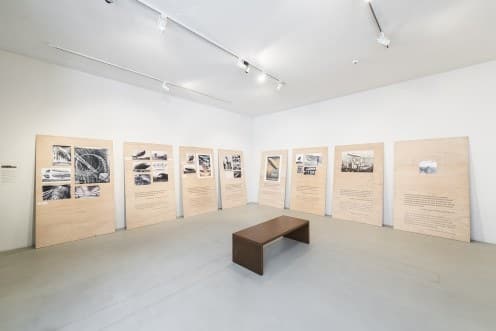 The exhibition describes the conceptual side of the creation of the airship, its inspirations, technical design, and its construction.

This unique monumental architectural intervention in the shape of an airship was inspired by the idea to invade the DOX Centre's modern industrial building with a "parasitic" structure that would contrast with its existing architecture.

In 2013 the DOX Centre's director, Leoš Válka, contacted internationally acclaimed architect Martin Rajniš, the 2014 winner of the Global Prize for Sustainable Architecture. For more than two years together with wood and steel specialists they worked on the design of what finally turned out to be a 42m long and 10m wide structure inspired by the shapes of the giant airships that began to cruise the skies at the dawn of the twentieth century.
The shape of the zeppelin is symbolic. The early zeppelins represented the optimistic ideals of a new era of unprecedented technological advancements. With their remarkable monumentality and hypnotic dignity that would continue to fascinate generations to come long after they had vanished from the skies.
The zeppelins have always embodied the eternal human desire to fly, and have represented a certain utopian ideal. The airship above the DOX Centre is to bear the name of one of the most famous characters in utopian literature. Gulliver serves as a space for reading and public discussions of literature fiction, poetry and critical writing related to the themes of DOX's exhibitions, which typically offer a critical view of particular aspects of the contemporary human situation.