The Olomouc Domain
18 Dec 2014 – 31 Jan 2015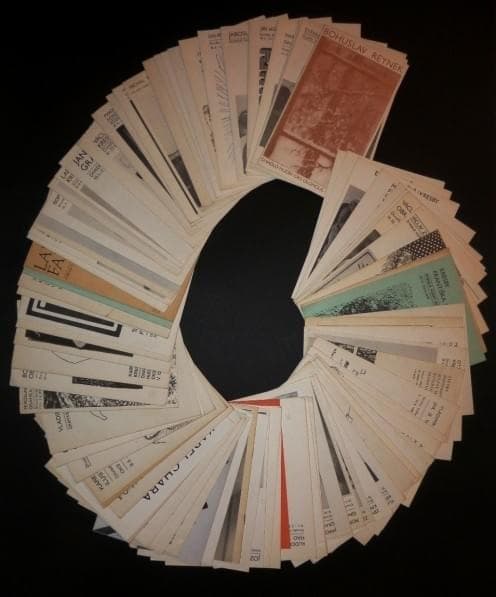 The exhibition takes place at teh Art Archive at DOX.
Opening:
Thursday 18 Dec 2014 at 6 pm
The Olomouc Domain is the first of two exhibitions being put on by the Art Archive examining the world of unofficial and semi-official art in Olomouc during the 1970s and 1980s.
Olomouc is a perfect example of the varied and difficult to unambiguously quantify regional cultural life that existed during the era of "Normalization". Here, like in many other places outside the country's capital, there was the advantage of weaker oversight by power structures. At the same time, it is a city with a long cultural tradition, often with a suffocating, conservative atmosphere, into which students and graduates of the Department of Art Theory and Education of the Faculty of Philosophy of Palacký University introduced a progressive element.
The exhibition at the Art Archive is devoted to "Galerie v podloubí" (The Arcade Gallery) and exhibitions put on by the Music Theatre, prominent foci of the semi-official art world, even though both institutions were completely official ones. The Music Theatre often provided an exhibition venue for once established artists who due to the existing political climate had no chance of holding exhibitions in Prague (Jiří John, Eva Kmentová, Dalibor Chatrný, Jiří Načeradský, Miloš Šejn), while The Arcade Gallery focused on beginning artists and their often first ever exhibitions: Otto Placht, Stanislav Judl, Jasan Zoubek, Pavel Humhal, Jan Merta, Václav Stratil and others exhibited here. Both institutions also presented an important series of photo exhibitions featuring the likes of Vladimír Birgus, Jindřich Štreit, Dana Kyndrová, Viktor Kolář, Jiří Šigut and others at the Arcade Gallery, and Vilém Reichmann, Miroslav Hák, Miloš Koreček, Bohdan Holomíček, or Štěpán Grygar at the Music Theatre.
The exhibition at the Art Archive will also feature related documentation, such as a complete series of catalogue posters featuring the exceptional graphic design of Oldřich Šembera, or period photos, providing a detailed picture of how exhibitions in Olomouc were organized, and the aspirations, effort, realistic options, and victories of cultural life during this difficult period.
Lucie Rohanová