The Silent Village
12 Jan – 9 Apr 2012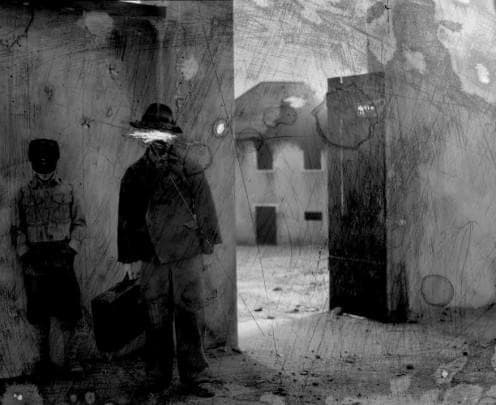 On June 10th 1942, the Czechoslovakian village of Lidice, 20km north of Prague, was obliterated by the Nazis following the assassination of Reinhard Heydrich by the Czech resistance. Throughout the West, news of the atrocity was met with outrage that later inspired various acts of commemoration including poems, novels, symphonies and films. These memorials sought to come to terms with the total destruction of a village, a symbolic attempt to try to understand and remember what took place. However, a more immediate response came from within the British Government that turned to film as propaganda to reconstruct the horrific events as if they had taken place in mainland Britain.

Within weeks of the Lidice tragedy, work had begun on translating those events into a film supported by the Ministry of Information, London, that was subsequently made in South Wales. In September 1942, a Crown Film Unit crew arrived in the Upper Swansea Valley at the small village of Cwmgïedd, close to the town of Ystradgynlais. Under the supervision of the artist, poet and filmmaker Humphrey Jennings, they set out to make a short film that recreated the fate of Lidice. The Silent Village (1943) both memorialises a recent tragedy, and alludes to future scenarios involving loss of liberty and ultimately death.

This exhibition and attendant publications reflect on the distinctive relations of time and place that defined Humphrey Jennings' original film. The artists Paolo Ventura and Peter Finnemore and the writer Rachel Trezise offer their response to a film that is both a reconstruction of the Lidice atrocity and an account of Welsh life in the early 1940s. The artists' attention to the power of fiction and generational memory through different modes of storytelling, offers an imaginary and emotionally complex bridge to historical events.
The exhibition is accompanied by the video installation 10:35 by Jan Kaplan, whose title refers to the time when Reinhard Heydrich was assassinated. Kaplan' s work draws on a footage taken from Jan and Krystyna Kaplan's film SS-3: The Assassination of Reinhard Heydrich (1992) that uses a similar strategy to The Silent Village's initial dramatisation of history.
Jennings' remarkable film that fused re-enactment and realism still retains a prominent place in the filmic imagination of Wales and remains an important example of a pioneering documentary practice in the service of the State. The performative and fictional devices used in the original film also have a relevance to expanded ideas of documentary within contemporary art. It is here between official and unofficial histories that new narratives can emerge to broaden the historical imagination, to offer ways that encourage of reflection on what it means to represent the past and to understand better the conditions under which ideas of history are both produced and consumed.
Curator: Russell Roberts, Reader in Photography at the European Centre for Photographic Research, University of Wales, Newport
The Silent Village is a Ffotogallery commission in partnership with the University of Wales, Newport.
Reportages about the exhibition by Czech TV (in Czech):