UPFRONT: War Photojournalists
1 Apr – 23 May 2016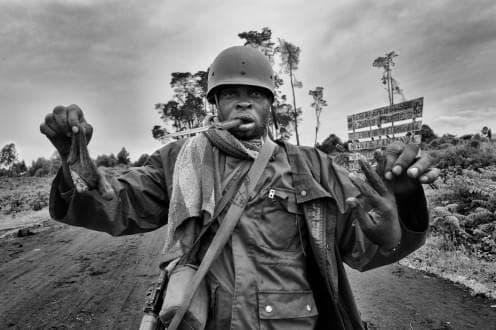 "And so it is.
The photographer ceases to exist.
The image stands still and silent,
condemned for perpetuity to recall
the terrible present days of man."
— Gracia Morales
UPFRONT
is an immersive exhibition project featuring the work of 23 top contemporary photojournalists
from various Spanish-speaking countries, working in areas of conflict all over the world.
The title of the project refers to the deadly front lines on which today's photographic vanguard operates to quench the world's thirst for non-stop news. It also alludes to the front row seats that we all get thanks to the brave men and women, often freelancers with no institutional support, who venture out to the most remote and dangerous zones to serve as our eyes.
The images provide a representative sample of the ubiquitous 24/7 visual feed that underpins our perception of the world. The unusual way the photos are presented also reflects the way the content captured and mediated by photojournalism is "consumed" today. UPFRONT also includes videos, a soundtrack, and an example of a photojournalist's basic camera gear and survival kit.
Curator: Ramiro Villapadierna
Concept: Instituto Cervantes in Prague

PUBLIC EVENTS:
7. 4.  | 7PM
Confused by Images: Photojournalism in a Global Context
- panel discussion with Czech and Spanish photographers, representatives of media and NGOs active in the areas hit by war conflict.
12. 5.  | 5PM
Guided tour of the exhibition in Spanish language with the curator (free with a valid exhibition ticket).