Vladimír Doležal: And Suddenly
3 – 30 Nov 2014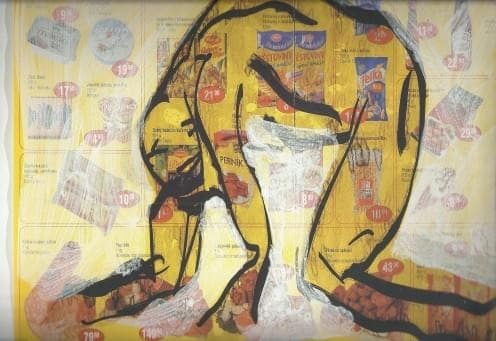 The exhibition will take place at the Art Archive as part of the Polička/Shelf project.
Opening: 3 November | 5:00 p.m.
Painter and restorer Vladimír Doležal (1946) is a graduate of the Academy of Fine Arts and Design in Bratislava and the Academy of Fine Arts in Prague, where during the 1990s he also taught painting technology, and at Miami University in Ohio then taught courses involving work with paper.
His work is based on classical painting and drawing, but transformed from its roots, both in its execution – his figures are radically simplified, and monumental landscapes have much in common with abstraction, and in its form and concept. Doležal's works overcome ingrained notions about material, and especially the borders between high and low art. The artist relativizes and disrupts established creative processes. His essential method is appropriation, interpretation, and paraphrase, but not of famous works of art or easily recognizable objects from the visual environment of pop culture, but rather the lowbrow images that we encounter on advertising flyers, in commercial catalogues, ripped-away layers of posters, etc.
In the same way, Doležal literally works with waste material such as remnants of tin sheeting, broken wooden boxes, or for example coffee grounds. He infuses his work with the most ordinary and the ugliest that the world has to offer, because among the trash he has glimpsed the possibility of beauty, which he has brought to life with delicate or on the contrary radical artistic intervention. He has thus found meaning among mass visual banality.
The creation of his own books also plays an important role among his often large paintings, collages, and assemblages. A book, as a type of gesamtkunstwerk and "sequence of spaces", allows him to construct an idea during its occurrence, to capture the phases and side roads of visual thought, to create an object and story with various themes, but always aiming for an absolute story, and absolute work.
The book And Suddenly, to be presented by the Polička/Shelf project in November, is a verbal as well as non-verbal examination of the human existence in time, and one of Doležal's most elaborate books.
Curator: Lucie Rohanová