YOU and ME
10 Jun – 30 Aug 2016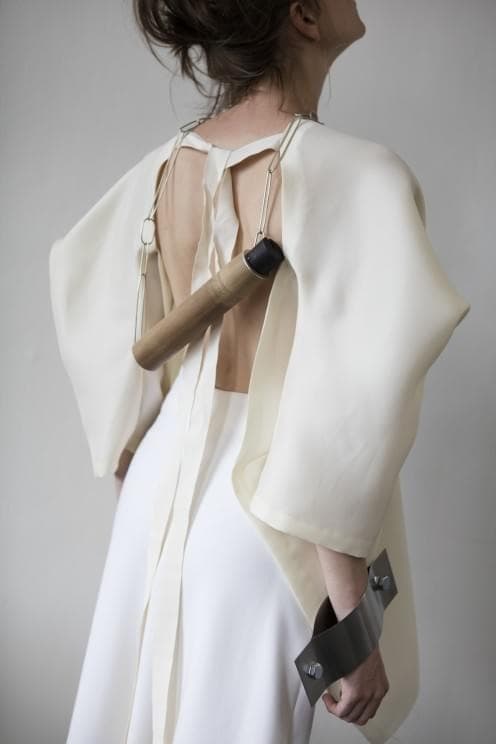 At the beginning of summer, DOX by Qubus will feature a group show by selected students of the K.O.V. and Fashion and Footwear Design studios at the Academy of Arts, Architecture and Design, who through their work will present an intimate dialogue between clothing and jewellery.
Students of the Eva Eisler studio and Liběna Rochová studio decided to present their work jointly for the first time ever at DOX by Qubus. The student work shown in the exhibition will come together more as the personification of living entities than as design, the objective being to highlight the familiarity concealed in detail that is so characteristic of jewellery and fashion alike. Both jewellery and fashion are intimately wedded with people and their bodies, making them difficult to exhibit. These two elements thus come together all the more closely so they can open up to each other as partners.

Daniela Pešková perceives fashion as self-reflection and culmination of the human condition. For Filip Jakab, it is a process of searching and finding. Karolína Juříková presents herself through playful use of prints on the topic of illusionism, while Kateřina Plamitzerová finds inspiration in various manifestations of folklore, and Karolína Karpíšková from the NARNISH duo presents pieces inspired by the work of fashion designer Helmut Lang.
In their jewellery, designers Veronika Muráriková and Pavel Liška use humour and exaggeration to elaborate on the topics of contemporaneity and modern times. In her body objects, Kateřina Michálková finds inspiration in fashion as body packaging, and Jakub Křelina comes with his playful and emotional expression of Men's Jewellery.
In addition to these names, the exhibition will also feature the work of Alžběta Dvořáková, Gabriela Hájková, Tomáš Bém, Iby Pop, Magdaléna Vojteková, and others.
 The opening took place on 9 June 2016 at 6:00 p.m.