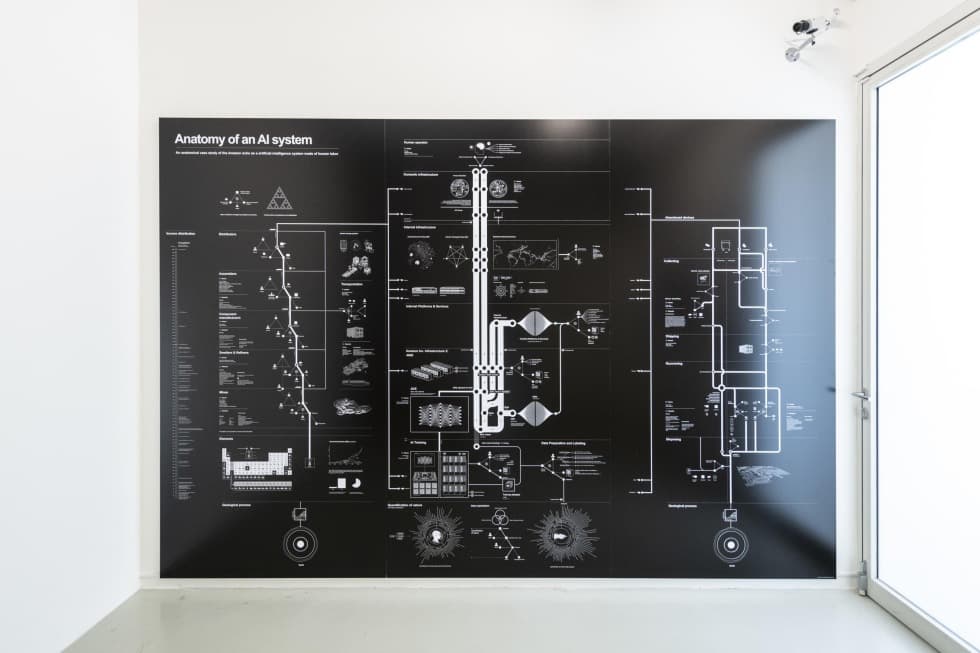 Hidden layers of the Datamaze – 3 new installations that illustrate the need for caution in the world of the internet
The #DATAMAZE project has been part of the DOX Centre for Contemporary Art since June 2018. Here, the concept of an exhibition as a work in progress is combined with a workspace and library, and now three new installations are being opened with a common theme: hidden layers in the world of the internet, new media, and technologies.
Cultivating sensitivity, even cautiousness regarding hidden layers in the world of the internet, new media, and technologies, and investigating their content and context is becoming increasingly important – and the results of this critical approach are also evidenced in the work of contemporary artists. In their project entitled Anatomy of an AI System, Kate Crawford and Vladan Joler use the example of an intelligence voice assistant to illustrate the complexity of design and the network of relationships with respect to ecology and economy – they reveal the invisible matrix of human work, energy consumption, and resource extraction that is behind digital networks and artificial intelligence. In her Dating Brokers project, Joanna Moll investigates the sale of user data through the example of online dating services that offer their data for sale on the conventional internet. In Sociality, Paolo Cirio introduces to the complexity of the world of software patents, which he unmasks as tools of social manipulation.
In May 2020, #DATAMAZE and the DOX Centre will host the Uroboros Festival, which focuses on art, design, technology, and critical thinking. Its goal is to inspire young creative individuals to engage in critical thinking about the contemporary world optimized by digital technologies. More than optimistic praise of technologies, we need to turn to critical reflection and investigation of the possible risks entailed by growing digitization and datafication of everyday reality.
About the #DATAMAZE project
The #DATAMAZE project takes the format of an extended exhibition. Here, this exhibition concept that evolves over time (a work in progress), is combined with a workspace and library intended for activities and cooperation involving various areas and topics that provide a critical perspective on our existence in the digital environment. The objective of the project, which commenced in June 2018, is to contribute to the public debate in this topic and to inspire individuals and groups to initiate and develop their own activities and projects.
Permanent installation: Internet timeline, Ars Electronica Linz and University of Applied Sciences FH Upper Austria, Informatics, Communications, and Media Campus, Hagenberg, Austria.
Exhibiting artists: Paolo Cirio, Joana Moll, Vladan Joler and Kate Crawford, Aram Bartholl, Adam Harvey
Photos for download
Welcome to the DOX's press room, where you can contact our Communications team, read press releases and find out the latest news.