I'm Here, announces Jiří David through an exhibition of paintings at DOX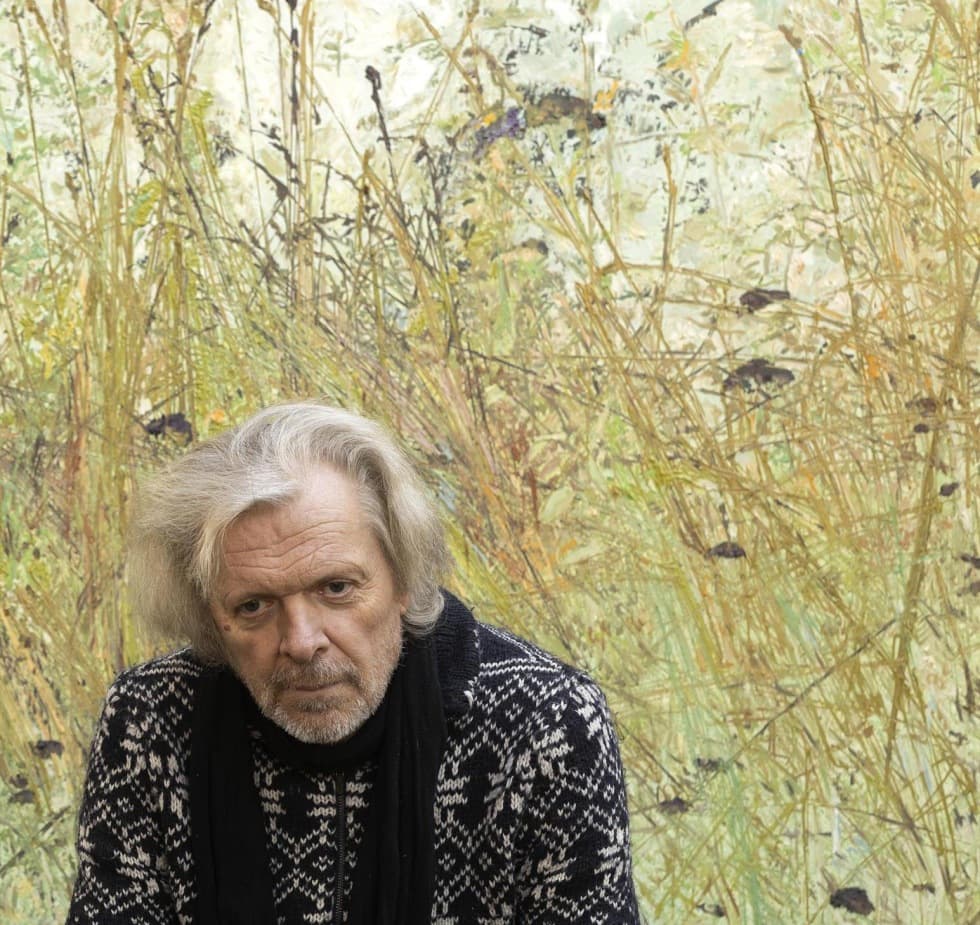 Among the most prominent artists on the Czech scene, Jiří David has his first solo show in the Czech Republic in over ten years
DOX will feature hitherto not exhibited large-format paintings created in 2018 and 2019
I'm Here is curated by eminent European artist Viktor Pivovarov
Jiří David, a multimedia artist and educator, who since the mid-1980s has exerted significant influence on the Czech art scene, presents his newest works, paintings both large and small, in an exhibition entitledI'm Here. He works with a rare artistic approach: a self-portrait from the rear, which he accents in the exhibition through repetition on three canvases, he immerses himself in the colourful intoxication of flowers and gardens, paints nude female bodies as well as himself, and in several paintings achieves a certain dematerialization of the physical body. The exhibition, featuring some thirty works, includes a series devoted to grass, a motif quite unique in Wester art when it comes to artistic focus.
"Jiří David paints with his typical temperament and emotional involvement, enriched by experience gained from conceptual work," states exhibition curator Viktor Pivovarov, "and opens an old and simultaneously new world of painterly poetry and poetic painting, both for himself and for his viewers."
"I actually never completely abandoned the medium of painting, but rather searched for its meaning, including by doubting, torturing, and tormenting it within myself. Simultaneously, I also looked for content-related contexts that made some sort of sense to me without having to ʻillustrate' contemporary narratives, but at the same time avoiding getting bogged down in mere decorative experimentation," says Jiří David regarding his exhibition.
Jiří David (1956), visual artist and educator, head of the Intermedia Communication studio at the Academy of Arts, Architecture and Design in Prague, working in the area of painting, object creation, photography, and video art; he is also involved in critique and journalism. While studying at the Academy of Fine Arts in Prague, he helped organize Confrontations, a series of unofficial group shows. In 1987 he and other artists of his generation founded the Tvrdohlaví [The Stubborn] group. Through his paintings, freely using signs and political symbols, he played a key role in the formation of the post-modern programme at the end of the 1980s and start of the 1990s, when he also began installing objects and writing texts dealing with the role of the artist and art in society. He participated in the Venice Biennale four times. His name became a household word in 2002 when his neon "Heart" was installed on the north tower of St. George's Basilica at the Prague Castle. His work is present in many domestic and foreign collections. His works are currently also being shown at Thomas Erben Gallery in New York's Chelsea district.
The exhibition is accompanied by a catalogue with texts by Jiří David and Viktor Pivovarov. I'm Here, Prague 2019, ISBN 978-80-970832-6-7.
The public can meet Jiří David in person during guided tours of the exhibition on 20 February and 12 March.
Photos for download
Welcome to the DOX's press room, where you can contact our Communications team, read press releases and find out the latest news.