In the City – Prague in paintings 
by Ivana Lomová at DOX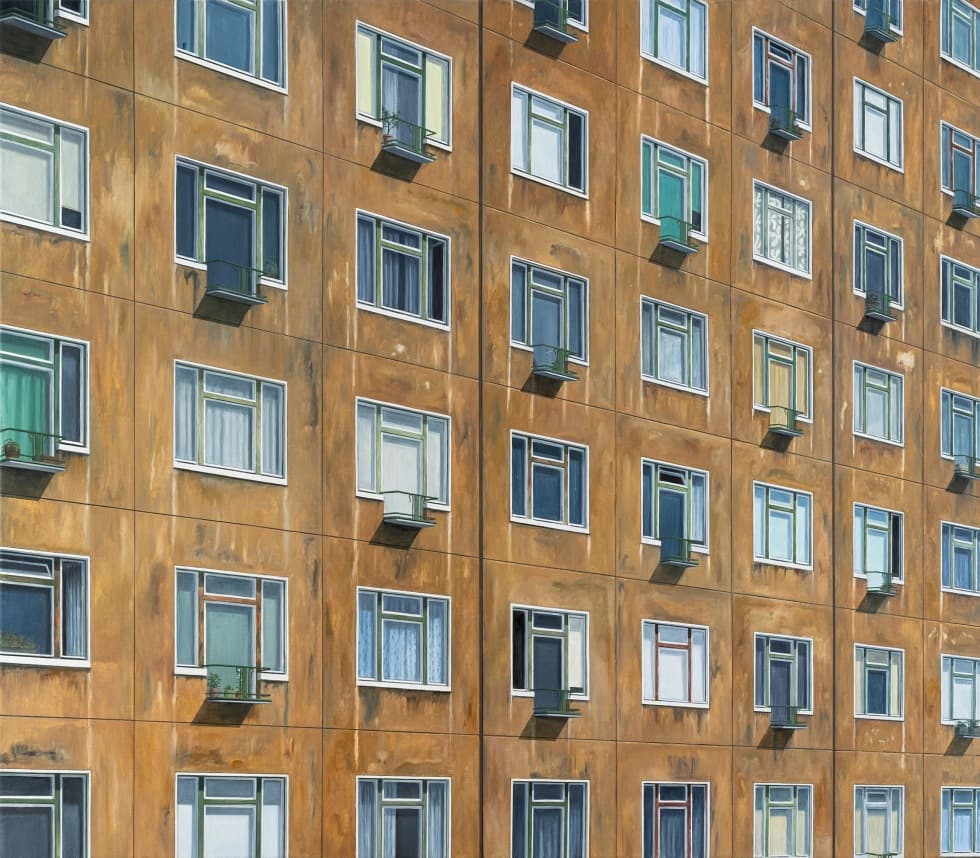 Ivana Lomová is showing thirty works, half of which have never been exhibited, at the DOX Centre for Contemporary Art. Its distinctive theme is memory and memories, which are imprinted in the exhibition in the forms of contemporary Prague. In the City is curated by Milena Slavická and will be on display until September 27.
In the In the City exhibition, Ivana Lomová paints memories imprinted on the present face of the Prague. She selects places imprinted with the stories of Prague residents as well as her personal stories from the time of her childhood and adolescence. They are engraved into seemingly ancillary things such as a chipped corner of a building, dry grass in a courtyard, a bench in a doctor's waiting room. This is because such minor details best preserve experiences, and are capable of securely sealing them in. They become memory boxes from which we can retrieve letters, even many years later, break their seals, and read them.
"Ivana Lomová is able to masterfully search for such forgotten dispatches, and incorporate them into her paintings. At first glance they seem prosaic, sometimes even austere, but they harbour concealed poetry and even a considerable dose of sentiment and melancholy, but always in an inconspicuous, covert manner. This is because she conceals and rectifies her emotions, and if she admits to them, she does so only very carefully and subtly," says exhibition curator Milena Slavická in describing the work of Ivana Lomová.
Over the past two decades, Lomová's work has moved towards a specific form of photo-realistic painting. Ivana Lomová uses photographs as a tool, but because the lens distorts not only colours and perspective but also contrast, she uses them relatively loosely. "For example, maintaining the perspective of a single vanishing point is not really advantageous for paintings, and when we move about in space, our vanishing point also changes. In my paintings, I therefore perform a kind of 'restoration work'. If the selected scene is being disturbed by some unpleasant 'novelties', I replace them with original elements. I replace plastic windows with wooden ones, I delete a suspended ceiling that was added to a room and replace fluorescent tubes with the original lamps. You'll never take photos like the pictures I paint," adds Ivana Lomová. At DOX she is showing thirty works, fifteen of which have not yet been exhibited.
In her paintings, Prague is ordinary, weathered, and more silent than expressive. However, the author also works thoughtfully with silence. This is because in her paintings, Prague speaks occasionally but in a quiet and uneasy manner. Certainly an important role is played by the artist's relationship with this city, which is very personal and very real. Perhaps that's why her paintings of Prague are so compelling.
Ivana Lomová (* 1959) graduated from the Faculty of Architecture at CTU Prague (1983). Starting in 1984 she published drawings in newspapers and magazines, illustrated more than 25 books, especially for children and young people, worked in animated film and for the magazines Mateřídouška and Ohníček. She collaborated on a comic book with her sister Lucie. Starting in the early 1990s she began focusing on fine art, which around the year 2000 crystallized into photo-realistic painting. She has been living in Prague's Střešovice neighbourhood.
A catalogue of the same name has been published on the occasion of the In the City exhibition.
Ivana Lomová
In the City
from 10 July to 29 September 2020
curator: Milena Slavická
Photos for download
Welcome to the DOX's press room, where you can contact our Communications team, read press releases and find out the latest news.