Sadofsky & Trantina: Reduced Visibility of Ordinary Things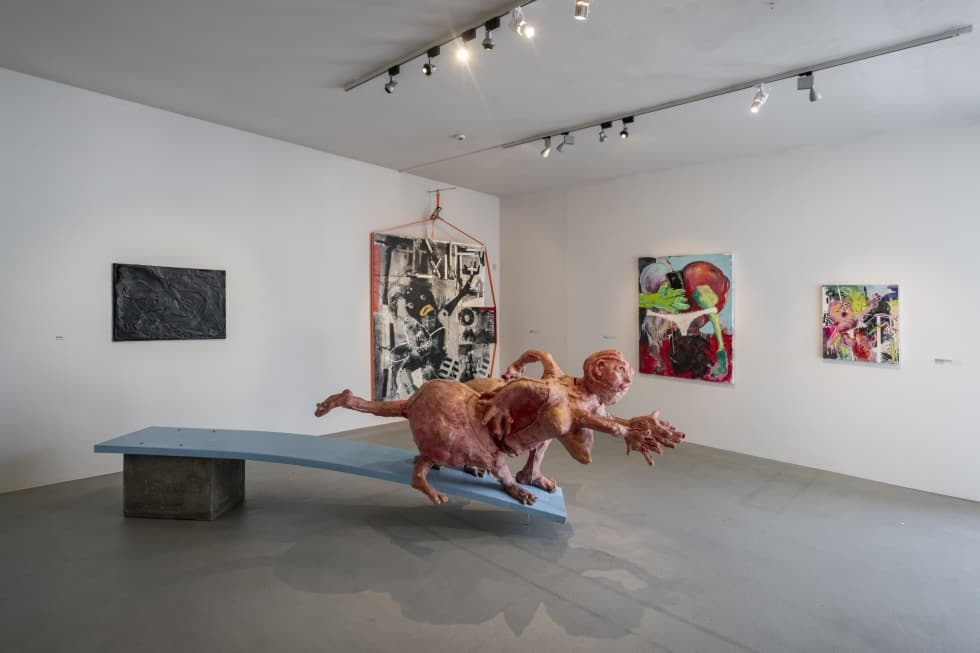 The founder of the Pode Bal art group, Petr Motyčka, aka Peter Sadofsky, and painter Dan Trantina, have been working as a duo since 2014. At the DOX Centre for Contemporary Art they will now present a selection of their work since 2016, including their latest work, in an exhibition entitled Reduced Visibility of Ordinary Things. Three-dimensional objects supplement figurative works of abstract expressionism.
Within the context of the art world, the name of this exhibition seems to make no sense. Visibility is always reduced, and ordinary things don't exist. Like the work of Sadofsky & Trantina, the name provokes, ridicules, and camouflages; their apparent anarchistic radicalism amplified by "bitter" creativity does not just involve formal gymnastics, albeit possessing undeniable technical bravado, but rather their position is clearly defined in their declarations and texts: The role of art and artwork greatly exceeds the "art world", which does not actually exist in and of itself. Today's aesthetic categories aren't defined by artists. They are defined by the market, marketing, the entertainment industry, and by advertising.
Contemporary art is not here for the sake of creation of new artistic styles and for art to fulfil its own history, but rather is a method for achieving a certain type of knowledge that is based on direct experience. "The professional and artistic background of both artists allows them to perceive the art world as a certain type of 'super-game' and to subverts its rules from within. Multiplicity, ferocity, colourfulness, self-confidence, and radical gestures. Is everything permitted? Coming from the Sadofsky & Trantina artistic duo, that which at first glance can seem to be mere parody and cynicism is authentic testimony and reflection of not only the contemporary art world, but above all the world outside it," says Leoš Válka, exhibition curator and director of the DOX Centre for Contemporary Art.
Those attending Reduced Visibility of Ordinary Things will for example have the opportunity to see an installation entitled Reconcentration made with stones from the concentration camp in Slaná and two canvases (Camp in Slaná – Mussolini in His Batman Costume Closing the Metajna-Slaná Concentration Camp, and Camp in Slaná – The Czech Adriatic) from the Camp in Slaná project, which deals with a little-known chapter of Croatian history – the Slaná men's concentration and extermination camp and the Metajna women's camp on the island of Pag, which were established by the Ustaše puppet regime and in which approximately 8500 people were imprisoned and subsequently all murdered in 1941.
Mao Zedong's policy known as the Great Leap Forward, which resulted in famine in which 20–40 million died, is referred to by an eponymous work of polyester resin and concrete. "The statue entitled Great Leap Forward is an allegory of the attempts of some people to take such 'great leaps', but simultaneously also symbolizes the insatiability of the West – a monster than is rejoicing and not rejoicing, balancing on a jumping board.But when it reaches the edge and wants to jump, there is no pool below," explains Dan Trantina.
Sadofsky & Trantina have been working together as a duo since 2014. The artists exhibited a large sculpture entitled Reconstruction as Tragedy and Farce in front of the European Parliament in Brussels to highlight the subject of coming to terms with the crimes of the Communist regime. They they accepted an invitation to Meda Mládková's residence on the Caribbean island of Saint Thomas, where they began to paint together. "It's a kind of jam session: we come up with a theme and structure for the painting, and then start working.It's strange that no conflicts occur during this process, because we both immediately gain detachment from the work," says Dan Trantina in describing their way of working. Aside from paintings, the duo also creates 3D objects and exhibits both in the Czech Republic and abroad.
The exhibition entitled Reduced Visibility of Ordinary Things will take place at the DOX Centre from 28 June to 30 September 2019.
About the artists
Dan Trantina (*1965) is one of the most prominent mid-generational Czech painters. He graduated from Jiří Načeradský's Studio of Figurative and Monumental Painting at the Academy of Fine Arts, Prague.
Petr Motyčka aka Peter Sadofsky (*1971), visual artist, member of the Pode Bal art group. Studied fine arts at University of Oregon and photography and visual communication at the Academy of Arts, Architecture and Design in Prague.
Photos for download
Welcome to the DOX's press room, where you can contact our Communications team, read press releases and find out the latest news.