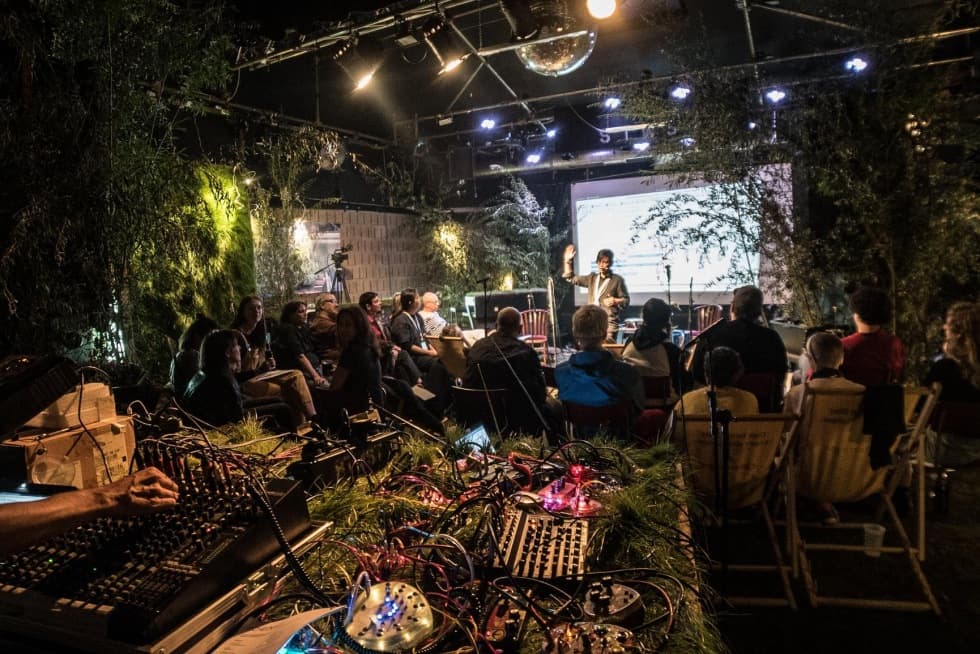 The DOX Centre is developing the #Datamaze project, and putting on the Uroboros on-line festival of critical art and design. Attendees can look forward to almost thirty festival activities.

The #Datamaze project is defined by an effort to critically reflect on the influence of computers and the internet culture on our everyday lives. From May 13 to 16, the #Datamaze concept will deepen and broaden the Uroboros on-line festival, which focuses on critical art and design. Uroboros is being held by the DOX Centre of Contemporary Art in cooperation with the ALTTAB platform.
Critical (speculative) design is a creative approach that creates and shares critical perspectives, instigates public debate, and directs attention to social, cultural, political, and ethical issues. It is a process defined more by focus rather than specific results and while it involves the creative disciplines (industrial design, fashion, architecture, game or graphic design), it is also applied in some areas of fine art. It creates various alternative future scenarios that it then visualizes and makes them accessible to the public.
While abroad critical design is widespread and supported, in the Czech Republic it enjoys only very limited awareness, nor is it included in university programmes.
"In a time of repeating social and environmental crises, it is not easy to remain optimistic. Urgent climactic issues, global health risks, increasing socio-economic differences – a constant flow of bad news and predictions of a catastrophic future reminds us that as humanity we have failed. In these complicated times, it is not easy to believe that as socially involved designers and artists, we are capable of helping bring about positive change. The symbol of Uroboros – a mythical snake eating its own tail – is an appropriate image for this peculiar time, illustrating cyclical frustration, the inability to escape from a vicious circle, and the promise of an end as well as a new beginning," says Markéta Dolejšová, co-curator of the festival, designer and theoretician.
The four-day festival will offer on-line worships, performances, discussion salons, role-playing activities, experimental walk-shops through real and virtual landscapes, and other hybrid inter-activities. In light of the measures currently in place, organizers decided to move the Uroboros festival from the #Datamaze space, and hold it on-line instead, using communication and creative platforms such as Zoom, Mozilla Hubs, or Miro. The festival programme is free, and will be in English. Registration is necessary for active participation in workshops.
Participants can fore example play an on-line LARP (live action role-playing) game entitled Occupying Screen Spaces. It is based on the manifesto Urbanizing the digital: Call for actions, which sees the digital environment as a form of urban space and offers a different perspective on the internet of the public interest. Its authors are Yin Aiwen (Netherlands) and Trojan Horse (Finland).
In the Antichrist workshop, participants will be familiarized with basic ideas related to algorithmic governance and the growing influence of smart technologies and artificial intelligence tools on social and political life. Within the scope of a debate on risks, conspiracies, and paranoias related to this topic, the authors will also touch upon somewhat more "traditional" technologies and techniques in this area, for example religious texts. The workshop will be led by Kristian Lukić, director of the Robot Centre in Slovakia.
The Digital Writer project by Dita Malečková and Jan Tyl, a continuation of their previous collaboration on the Digital Philosopher project, is one of five Czech projects included in the festival. The aim of Digital Writer is to use deep neural networks to model a virtual writer that generates its own texts.
"The aim of the Uroboros festival is to inspire young artists and designers, including students, to apply critical reflection and self-reflection in their own work. However, the festival is also intended for that part of the public that takes a critical interest in the current 'disturbing times' and current social, ecological, and moral crises," adds Michal Kučerák, one of the festival's curators and the author of the #DATAMAZE project.
The on-line programme consists of: adA/Optive group (AT), Yin Aiwen & Trojan Horse (NL/FIN), Darina Alster (CZ), Katarína Balažíková (SK), Jana Bernartová (CZ), Kat Braybrooke & Jaz Hee-jeong Choi (UK/AU), DISNOVATION.ORG (FR), Jennifer Cunnigham & Sue Fairburn (CAN/SCT), Enrique Encinas & Rob Mitchell (ES/UK), Eurico Sá Fernandes (PT), House of Common Affairs (GB), Hermetechnics Inc. (SK), Denisa Kera (CZ), Yoav Lifshitz (IL), Dita Malečková & Jan Tyl (CZ), Andrew Gryf Paterson (SCT), Stefan Schaefer (NL), Juli Sikorska (DE), Winnie Soon (HK), Speculative Edu (HR), Jakub Tajovský (CZ), Sjef van Gallen (NL), Danielle Wilde (AU/FR), Zuza Zmatek (SK)
About #Datamaze
The #DATAMAZE extended exhibition, which in 2018 was commenced by the Data Maze metaphor, defined interest in data and digital literacy from the perspective of artistic practice. Its second edition in June 2019 used the metaphor of Hidden Layers. Its third version will open on 27 May 2020 and will focus on the symbol of the Vicious Circle. On the one hand, digital technologies bring us a certain magical element - the phone has become our amulet, connected computers a symbol of planetary consciousness, and supercomputers the promise of immortal human consciousness. On the other hand, we must constantly ask ourselves: who are we? We live in a world that is working on developing artificial intelligence. What is the relationship between human and machine learning? What can digital technologies tell us about who we are?
ABOUT ALTTAB
ALTTAB is a team of Czech and Slovak designers, theorists, and curators with international experience who have a common interest in the ethical and socio-ecological consequences of new technologies. Since 2019, the platform has been involved in the #Datamaze extended exhibition project. It puts on public seminars, debates, workshops, experimental participative workshops, etc.